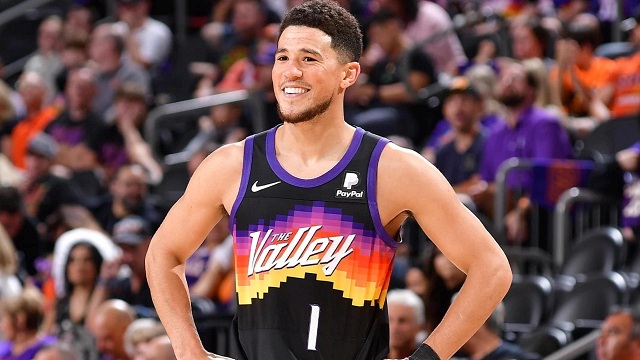 When it comes to NBA 2K23, a variety of players are mostly impressed by the NBA 2K23 MyTeam mode. They are allowed to build their unique team and compete against other players in the game. So, they always confused about the choices of players of different positions. Some players expect to select the best shooting guards in NBA 2K23. We have concluded some best Shooting guards players for you in this article, you can read it and learn from the guidance. Players need
Cheap NBA 2K23 MT
to find good or potential players for improving the competence of team in NBA 2K23 MyTeam.
The Best Shooting Guards in NBA 2K23
Devin Booker (91 OVR)
Devin Booker is the definition of a pure scorer, and throughout his career has managed to do most of it from inside the three-point line. The Phoenix Suns are perennial NBA Championship contenders, and that's in large part thanks to Booker being able to take over games offensively.
Point guard Chris Paul is the unquestioned leader and helped turn the team into a winner. But when things are close and the Suns need points, Booker wants the ball in his hands. Booker was given a 91 overall in NBA 2K23 and currently stands as the highest overall shooting guard in the entire game.
James Harden (89 OVR)
Based on the way the Philadelphia 76ers utilize James Harden, he serves more as a point guard than a shooting guard. But in NBA 2K23, his primary position is at the two and not the one, mainly due to his age and the dominant factor that the NBA changed some game rules, hindering him to play to his strengths and skillsets he's become accustomed to over the course of his career. Having a favorable score of 89 overall, the 76ers superstar is still chasing that championship ring and anyone playing NBA 2K23 could make his dream a reality.
Donovan Mitchell (88 OVR)
At a time, Donovan Mitchell might've been considered the best shooting guard in the league. But as quickly as a player is to rise in stardom, they can quickly be dethroned. Donovan Mitchell experienced tremendous success with the Utah Jazz since 2017, but he and the team always faltered in the playoffs. Finally, the team waved the white flag and traded Mitchell to the Cleveland Cavaliers.
The Cavaliers are acquiring one of the best offensive talents in the NBA. Since his rookie year, Mitchell has averaged over 20 points per game and nearly four assists per game. Mitchell is a bit small for his position at 6'1, but he's incredibly fast and is a high-volume shooter. Surprisingly, Mitchell has above-average ratings in both interior (B-) and perimeter (B+) defense.
Zach LaVine (88 OVR)
Zach LaVine is easily one of the best shooting guards in NBA 2K23 MyTEAM. When you look at his statistics, with 94 on offense and a 94 overall, it is no surprise that he scores so consistently. He also has the limitless take-off badge, which allows him to complete a driving dunk from almost anywhere.
On top of his outstanding offensive attributes, LaVine is also a solid defender. He can be a little on the slow side, but if you keep your guard close on your opposition, you will find he is more than capable on defense.
If you have no idea about the choices of Shooting Guards in your team, you can consider these mentioned players at first. While, it is not easy to get them in NBA 2K23. You have to
Buy NBA 2K23 MT
to purchase them from the transfer market. Aside from the cost of them, they can help you improve the offensive competence of team in the game.