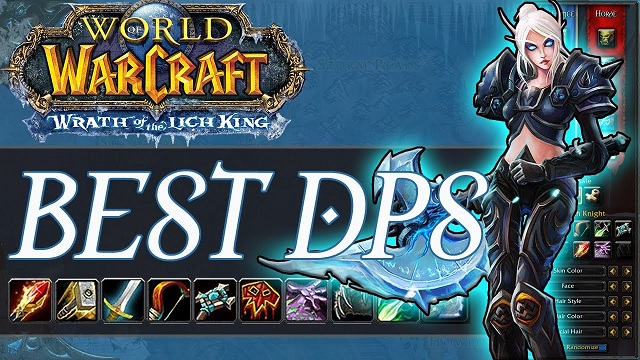 A variety of players who love playing WoW Classic series are happy about the release of WotLK expansion. They are willing to join in the adventure of Northrend land in WotLK. Some players want to choose a DPS class to start the journey in WotLK. You can read this article and know the DPS class tier list. Then, you may have idea about the choice of DPS class in WotLK. Players can use
WoW WotLK Gold
to purchase good gear for characters in order to improve their capacities in battle.
Recommended DPS Class for PvE in WoW Classic WotLK
S-Tier: Frost Death Knight
The Frost Death Knight spec's overall damage is undoubtedly very good and consistent. They excel during the early phases of the expansion from the high damage of their magic-based skills. Where many other physical damage based classes have to suffer from the lack of armor penetration available, Frost DKs aren't as concerned.
Frost DKs have incredible single-target damage, lagging very slightly behind Assassination Rogues. However, we have access to something they don't: an excellent cleave tool, in Howling Blast. This means that, on cleave-type fights in specific, you will likely be at the top of the damage meter. Yet, damage isn't all we have going on for us: Frost DKs bring some excellent raid utility, in the form of Horn of Winter and Improved Icy Talons (only shared with Shamans), making them a highly desirable spec.
S-Tier: Unholy Death Knights
Unholy Death Knights have a very similar function overall to Affliction Warlocks, and are probably the second most stacked class in tier 7 content. Thanks to their powerful spec cooldowns, Unholy has the best burst damage in the game, making them incredibly valuable in the first tier where fights are generally faster than they are later on. Death Knights in general are incredibly strong all expansion, and fully live up to the title of hero class. Unholy is a step above Frost specifically once you start to get some raid gear and hit raid BiS.
Unholy scales incredibly well, and does exceptional sustained AoE damage while also bringing excellent single-target. Death Knights bring just amazing damage overall without really needing to change their builds, which makes them great additions to the raid in any situation. Death Grip IconDeath Grip is also unique utility that is impossible to replicate with other specs.
S-Tier: Affliction Warlock
Affliction Warlocks (Afflic) are a top-tier DPS throughout most of the expansion. While there may be some minor ups and downs with gear sets and short fights, they are strong in nearly every measure. They have excellent single-target damage with their vast array of damage-over-time skills. They also have great AoE and cleave potential with multi-dotting. And finally, the potential bonus damage in the execute phase with Drain Soul and Death's Embrace. Not only are they great damage dealers, but they are also the best at providing the spell critical strike chance debuff.
A-Tier Feral Druids
Feral Druids sit in a unique spot to start off the tier as they have great damage, provide great utility, and perhaps bring the most underrated benefit a DPS can, their ability to off-tank when needed with Bear Form. Keep in mind, however, that they require one of the most difficult rotations of the expansion.
If you are willing to play DPS class in WotLK, we have recommended these powerful classes for you in this article. You can choose one of them to play in the beginning of WotLK. While, in the process of adventure in Northrend land, you should try to level up your characters quickly in the game. So, you can
Buy WoW Classic WotLK Gold
to earn more XP for upgrading characters in the process of completing quests. High level characters will be allowed to join in competitive dungeon raids for good rewards.