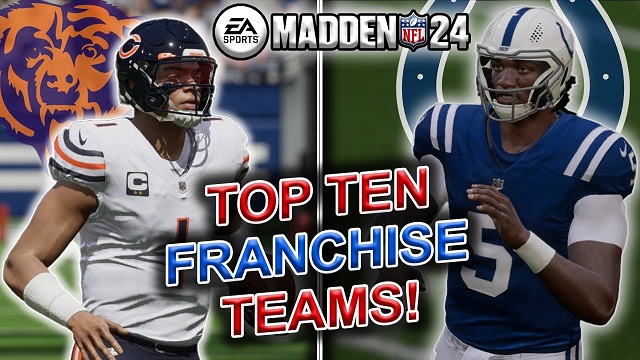 Many Madden series fans are really fond of playing the Franchise mode in Madden 24, because they can build the original team in the beginning and push them to the league in the end. And do you want to know how to choose the right team in the beginning of Franchise Mode? Players can use
Cheap MUT 24 Coins
to build the best team in Madden 24 Franchise Mode.
How to Choose the Best Team in Madden 24 Franchise Mode
Carolina Panthers
The first option on our list of teams is the Carolina Panthers, who finished last season with a record of 7-10, trailing behind the Tampa Bay Buccaneers in the NFC South division. The Panthers stand out for a strong and organized defense that helped them win several games last season. However, the offense has left something to be desired.
In Madden 24 Franchise Mode, your goal with the Panthers will mainly be to rebuild the offensive game, starting with the confirmed signings of Adam Thielen (WR), Miles Sanders (RB), and Hayden Hurst (TE), who will be joined by the 2023 NFL Draft Pick 1, Bryce Young (QB).
Philadelphia Eagles
The defending NFC recipient in the Super Bowl is the top team option for Franchise mode in Madden 24. Led by Jalen Hurts (88), the Philadelphia Eagles annihilated opposing defenses all season with their league-leading offense (91). Hurts is one of the best dual-threat quarterbacks and utilizes his high-flying weapons receivers A.J. Brown (91) and DeVonta Smith (87) and tight end Dallas Goedert (89).
Last season, Philadelphia had a decent defense (84) with Darius Slay Jr. (92) and James Bradberry IV (85) locking down opposing receivers while Fletcher Cox (81) and Haason Redick (90) were attacking the quarterback. Philadelphia's defense will receive a massive boost this upcoming season with rookie defensive tackle Jalen Carter (79), the second-highest-rated rookie in the game. With more impactful youth being injected into an already Super Bowl-caliber roster, there's no debate that the Philadelphia Eagles are the best team to choose in Franchise mode.
Kansas City Chiefs
You draft the Chiefs for Patrick Mahomes. It really is that simple. He has everything you want in a quarterback and is still young enough where he won't retire until you go 10+ seasons in franchise mode.
Travis Kelce is a really nice piece on offense but he is getting a little old so you may want to trade him early on to try to maximize the value you get back.
Isiah Pacheco should be fairly easy to develop into a franchise running back with his 80 overall rating with 93 speed and 95 acceleration. The Chiefs also have a few young receivers that should progress nicely.
On defense, DT Chris Jones is an absolute beast. Nick Bolton, Justin Reid, L'Jarius Sneed, and Trent McDuffie are young talented guys in the secondary with good speed ratings so make sure to focus train these guys to maximize their potential.
Chicago Bears
At the top of our list is the Chicago Bears. In 2022, Chicago finished last in the league with a 3-14 record. However, second-year quarterback Justin Fields showed flashes of brilliance in an otherwise dismal season, and the Bears had a remarkable offseason.
General manager Ryan Poles took the initial steps to build a winning roster. First, Chicago filled out its defense by signing promising linebackers Tremaine Edmunds and T.J. Edwards in free agency. The Bears also signed underrated running back D'Onta Foreman and tight end Robert Tonyan to give Fields more targets.
And then, Chicago showed the ultimate display of faith in Justin Fields by trading the first overall pick to the Carolina Panthers for two first-round picks and star wide receiver D.J. Moore.
With a stockpile of draft picks and young talent, the Bears are a great team to manage in Madden 24. It also helps that Aaron Rodgers is no longer there to terrorize the division.
If you also like playing Franchise Mode in Madden 24, you can choose one of these mentioned teams and make the team become the top in the league. And it is necessary for you to
Buy Madden 24 Coins
to level up your team quickly in the match.