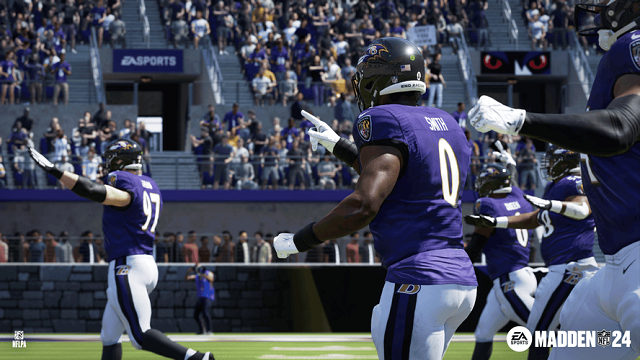 Many Madden series fans have waited for the release of Madden 24 for a long time. They expect to experience the latest version of Madden NFL 24. And they are also caring about the news of Madden 24 Ultimate Team mode. We are going to list several new features of Madden 24 Ultimate Team mode in this article. Players can use
Cheap MUT 24 Coins
to build the best team in Madden 24 Ultimate Team mode.
New Features of Madden 24 Ultimate Team
Live Event Hub
When it came to UI experience last year in Madden 23 Ultimate Team, it wasn't easy for many newcomers to get an idea of where everything was located, from new players, programs, and challenges. This year, however, Madden 24 Ultimate Team will have a 'Live Events' hub where fans will be able to locate everything they need to know about a given program in one place. So for example, solo challenges, sets, house rules, and store items from a given program, will all be accessible from the Live Events hub in Madden 24.
Moreover, the Live Events hub was also designed to filter all the content inside to only display items and details that are relevant to the program you selected. So for those that were after a more organized and structured UI experience, Madden 24 went a long way to deliver just that through their Live Events hub in Ultimate Team.
New Item Catalog In MUT 24
Have you ever played against an opponent in Madden Ultimate Team Head to Head and they had an item that was completely unknown to you? Previously, there was no way to find out how to get that player for yourself. But now there's the Catalog, which aims to solve this problem.
The Catalog lists all items available in the game, and when you select an item, it provides you with detailed information on where and how to obtain it. Additionally, you can view the abilities of each player item, the AP cost of abilities, and the global usage of each player in Ultimate Team.
New Competitive Pass
Now, the Competitive Pass lasts for a full MUT season and has daily, weekly, and season rewards. Furthermore, every pass includes two exclusive player items, that users can earn. These items have a base and limited version. The limited version players come with special abilities and are actionable. However, they can only be earned by the first 1K players.
When it comes to the MUT Champs feature, it underwent a structural change. Champs is now open to everyone, and you no longer need a token to enter. Furthermore, instead of requiring heroes from a specific program, Champs will now require "Non-BND" players of a specified OVR. The Champs items at launch have also been revealed as having an 87 OVR.
Cross-Play
But perhaps the biggest new addition to Ultimate Team is Cross-Play between next-gen & PC players. From the way it's described in the gridiron notes, PS5, Xbox Series X, and PC players can all play against each other. There's no mention on last-gen versions having the feature, which is a major downside for PS4 and Xbox One players.
We mentioned main new features of Madden 24 Ultimate Team in this article, you can read it and know more information. And you can also
Buy Madden 24 Coins
to select powerful players for your ultimate team in the game.