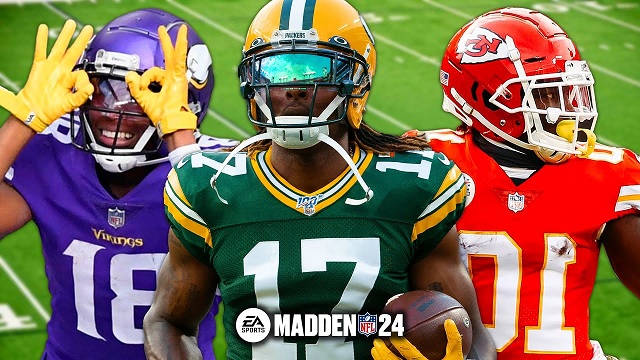 In order to build the best team in Madden NFL 24, players need select the best player cards from different positions for the team. When it comes to Wide Receivers, they plays an importance role in offense and energy. Players want to know how to select best Wide Receivers in Madden 24. Players can use
Cheap MUT 24 Coins
to build the best Ultimate Team in Madden 24.
Best Wide Receivers in Madden NFL 24
Justin Jefferson (99 OVR)
The top athlete in the Wide Receiver position, Justin Jefferson is a coveted player in Madden 24 alone. He comes with the largest record of yards and receptions in the last season making him applicable both in game and on the field.
A great season is being predicted for the Vikings champ as he is still early in his career and currently thriving. With a short, medium, and deep route at 98, 97, and 97 respectively Jefferson is extremely versatile in this position.
Tyreek Hill (98 OVR)
Hill moves up to the second spot, ahead of last year's leader. Hill's first year in Miami led to career-best numbers in receptions and yards, even with multiple quarterbacks throwing him the ball (and not playing with Patrick Mahomes anymore), posting 119 catches for 1,710 yards and seven touchdowns.
Davante Adams (97 OVR)
The connection between Davante Adams and Aaron Rodgers was unmatched in the NFL, as the duo became one of the most dominant aerial threats in the league. However, that tandem came to an end last season when Adams was traded to the Las Vegas Raiders to team up with his former college quarterback Derrek Carr.
Although Adams led the league in touchdowns (14) and gained 1,516 receiving yards, he didn't experience the same team success on the Raiders compared to the Green Bay Packers. But if we focus on just Adams, he remains one of the best receivers in the game. He has a perfect release rating (99) that allows him to get into his routes faster. An underrated part of Adams's game is his ability to stay healthy (97); in his career, Adams has not missed more than four games in a season.
Cooper Kupp (96 OVR)
The Los Angeles Rams star WR was hit hard with a high ankle sprain last season that later required surgery. So seeing him back as a 98 overall wide receiver was a long shot. That said, Kupp is still very much one of the best in the game, which is why he will have a 96 overall rating in Madden 24. Despite it being well over a year ago, we cannot forget the epic 2021 season Cooper Kupp had en route to the Rams Super Bowl title that year. Over the 2021 campaign, Kupp won the WR Triple Crown Honor of having the most receptions (145), most receiving yards (1,947), and most receiving touchdowns (16) among all wide receivers.
Stefon Diggs (96 OVR)
As soon as Madden NFL 24 was revealed with Josh Allen on the cover, memories of Stefon Diggs pulling down passes came to mind. Diggs has been to three Pro Bowls in a row and set a career-high for touchdowns this last season as the Bills dominated the year.
Diggs was a star in Minnesota but has become a superstar in Buffalo. The team is still looking for its first championship, hoping that the magic between Diggs and Allen is still as powerful as ever. If it is, the Bills are an easy contender to win it all.
Ja'Marr Chase (94 OVR)
Believe it or not, this is Ja'Marr Chase's first time being featured in the top ten of Madden wide receivers. In Madden 23, Chase was perhaps rated too low, only starting the year at an 87 OVR. However, that has changed significantly in Madden 24 after another great year between Chase at receiver and Joe Burrow at QB. There's no reason to think Chase won't continue to put up huge numbers for the Bengals this season.
We have listed several best Wide Receivers in this article. In order to get these powerful player cards, you can
Buy Madden 24 Coins
to select the right one for your team in the transfer market.