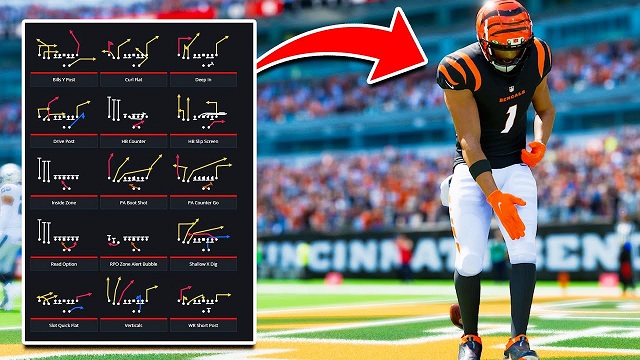 Madden 24 fans who want to make good performance in Madden 24 Ultimate Team mode should not ignore the importance of offensive playbook in the match. Good offensive playbook plays a vital role in the pace of matches. We are going to tell you how to equip the best offensive playbook in MUT 24 in this article. Players can use
Cheap MUT 24 Coins
to introduce best players to your Ultimate Team in Madden 24.
How to Equip the Best Offensive Playbooks in Madden 24
Kansas City Chiefs / Commander
Wrapping things up, the Kansas City Chiefs and Washington Commanders secure the final spots, as their offensive playbooks are remarkably similar. They both offer top-notch formations like Shotgun Tight Open, enabling teams to execute precise passes, effective runs, and crafty maneuvers. If you're in search of a playbook that excels at scoring points rapidly, the Chiefs' playbook is an excellent choice. Similarly, the Commanders also embrace a pass-oriented offensive strategy.
Philadelphia Eagles Offensive Playbook
Our second recommendation is the Offensive Playbook of the Philadelphia Eagles, the most recent Super Bowl runner-up. The Eagles focus on plays where the Quarterback and Halfback take the lead. In contrast to KC, Philadephia are a rush-heavy offense, but they also have interesting formations for passing plays.
New York Jets
The Jets offensive playbook has the best passing formations in the game, and their running schemes are very good too. These include I Form Close formations for passing, such as PA TE Leak and PA Boot Flow, and Strong I Close running formations, including Quick Toss and HB Dive. But the most popular current offensive formation is Shotgun Tight Offset TE, which includes 10 amazing passing schemes and two running schemes. These Shotgun formations are basically exact replicas of the Packers formations, which have been adopted by the Jets this season.
San Francisco 49ers
The San Francisco 49ers offensive playbook is your best bet if you're trying to make the most of a team with lightning-fast running backs. Their playbook is predominantly a run-first offense, with formations like Singleback, I Form, and Pistol. However, it's no secret that your opponents will pick up on your plan to run the ball every down and will eventually try and fill the box to stop you. But don't worry, because the 49er's playbook has you covered in that scenario too.
The 49er's playbook has a couple of plays that line up the wide receiver in the running back position. Because you've been running the ball so much, defensive formations will be confused, and one of their linebackers may even cover your receiver. If that's the case, this is a simple mismatch to exploit. Nonetheless, the San Francisco 49ers have one of the best offensive playbooks when it comes to running the ball.
Denver Broncos
The Denver Broncos playbook has a number of unique formations that can cause confusion for the opposition defense, particularly as the offense is built around the extremely mobile QB that is Russell Wilson.
The Broncos playbook provides a lot of depth and different options to take offensively and strong wide receivers can really shine with these plays, although it can be slightly on the weaker side if you stick to the ground.
Buffalo Bills
Buffalo Bills have one of the best offensive playbooks in Madden 24. Primarily prioritizing the Shotgun play, the Bills like to move together as a unit. This is their most used formation, and it consists of various sets with the team huddled together, escorting the quarterback.
You do have a wide receiver stationed a bit to the sides in case you're being bottled in, but the play essentially focuses on defending the quarterback while he makes a run for it. This is safe and simple to execute since you won't be relying on passes or fumbles to get ahead. However, if you're trying this playbook on another team, you'll need to find defenders that can keep the opponent team at bay while the quarterback goes ahead.
It is time for your team to equip one of these mentioned offensive playbooks in Madden 24. And you can also
Buy Madden 24 Coins
to select the best players for your team in the transfer market.