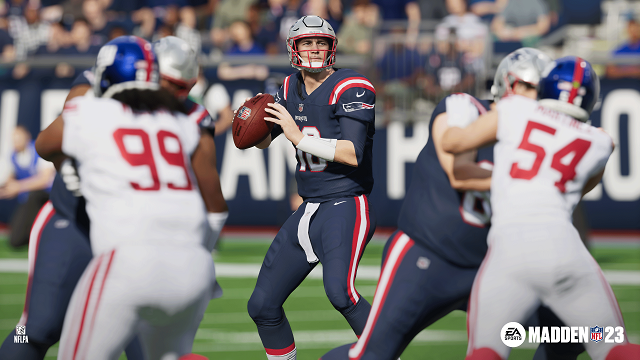 Madden NFL 23 Ultimate Team mode is an interesting and competitive game mode which attracts various football fans. They are willing to build the powerful team and win more matches in MUT 23. While, it is not easy for players to compete against high level veterans in Madden 23. You can learn some essential tips that helps you improve your performance in MUT 23 matches. Players can get
MUT 23 Coins
to purchase good player cards from the Transfer Market and build up the best ultimate team.
Some essential tips for playing Madden 23 Ultimate Team mode
Sync Up Good Team Chemistry
One way players can be better than the cards they can afford is to sync up team chemistry through affinity. The veterans will be taking the cards with the best OVRs. To bridge that gap, instead of buying expensive cards, buy ones that come from the same team.
All offensive and defensive starters from the same team contribute to the chemistry bonus. With enough of them, the contributing cards each get ten extra points toward their stats. Consider nabbing up the highest-rated Patriots. Keep an eye out for cards with multiple team affinities. These can be adjusted in the lineup menu to match the desired team chemistry.
Upgrade Your Ultimate Team by Completing Missions
An efficient way to earn various rewards to upgrade your Ultimate Team is by completing missions. Initially, you'll have completed the Start Your Ultimate Team mission set to acquire a few key early players. The three other mission sets are Headliners, Team Affinity, and All-Madden. To complete the Headliners missions, you need to complete card sets and you'll receive a top-rated player. When you acquire new cards, you can assign them to card sets based on their value. The All-Madden missions are also a range of card sets completing missions.
Focus on Completing Solo Challenges
Solo Challenges are still the wave as they can be used as mid-snap tryouts for new legends, position upgrades, and QB cards that deserve second chances. For offline duos, it's an easy way to get coins and Season XP for Field Passes, and for free-to-play veterans, it's a daily ritual with Team Captains and rewards like 86 OVR All-Madden Team Randy Moss. It turns into a Binder Filler Generator at some point, but maxing out stars with each new set of challenges will farm additional XP for the current Season and its correlating Program Field Passes.
Try to Maximize Your Strategy Items
Strategy items are boosts you can equip for certain position groups or to groups of players with the same chemistry, such as +1 to zone coverage.
To maximize these strategy items, you are going to need build your team with players with similar archetypes and chemistries. At every opportunity you should be adding chemistry upgrades to players who have open slots, using chemistries that fit with the rest of the team and the strategy items you have equipped.
If you expect to win more matches in Madden 23 Ultimate Team, you can try to experiment these tips when you play MUT 23. And you can also
Buy Madden 23 Coins
to upgrade your ultimate team quickly in order to compete against more high level opponents in the game.