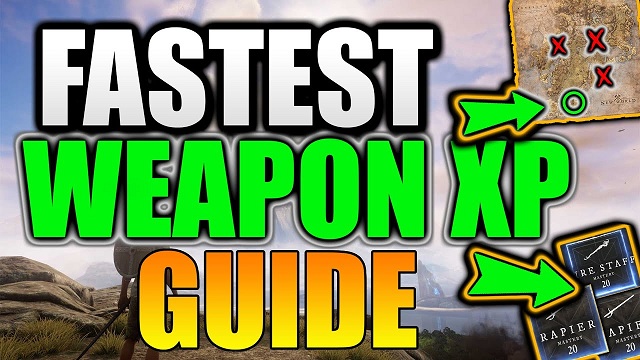 New World provides a lot of various kinds of weapons for players in the large world. Players can choose one of their desired weapons and build their characters in the game. While, with the improvement of levels, players need to upgrade their weapons in time in order to complete more quests in difficult dungeon raids. Have you got any idea about upgrading weapons in New World? If not, you can read this article and know more guidance about it. Players can get
New World Gold
to select the good gear or items for characters, which helps them pull through difficult dungeons in the game.
How to Upgrade Weapon Fast in New World
Accumulate Weapon XP by Defeating High-level Enemies
Attacking higher-level enemies grants you more base weapon XP, allowing you to breeze through the early weapon master levels. It is the most efficient way to level your New World weaponry quickly. Furthermore, because weapon scaling is determined by your character traits, light and powerful attacks will still deal enough damage to higher-level enemies.
However, if you're switching to a new type of weapon, you'll need to pay respect to the weapon's attribute focus. For example, switching from a Fire Staff to a Warhammer necessitates a full character attribute reset. Another advantage is that higher-level gamers can still benefit from the accompanying how and where to upgrade New World weapons fast ideas.
Complete More Expeditions for Weapon Mastery XP
Expeditions are part of New World's main story, with your first introduction to expedition requiring five players to enter Amrine Expedition around level 25. After that, you get to do a new instanced dungeon every 10 levels until level 55, where you can get access to another two-level 60 dungeons designed for end game players.
These expeditions are instanced content, where you and a group of four other players can repeatedly head in and destroy mobs for targeted loot. The good thing is that these expeditions are filled with elite enemies. It means you can get much more weapon mastery experience on repeat with no player contest. Moreso, if you can get efficient runs going, you'll get much more character and weapon experience per hour than regular outdoor content.
Find Good Spots to Upgrade Weapons
Misty Borough, Great Cleave
Misty Borough is located in Southern Great Cleave in the Wayward Mounts area. Make sure you run past the Eeeriedune Graveyard before you start pulling your groups of mobs. This area is full of level 47-48 lost enemies, and you have to be careful not to leash the enemies here. There are several pulls that you'll make each yielding a decent amount of weapon experience.
There are a few buildings that have multiple levels. Be careful not to get caught in a corner or trapped on the stairs. You can jump out of the second-story window into the kill area for the first pull. On the other pulls that have multiple levels, you can also jump out of the windows and continue the pull to the kill areas.
Pirate Camps, Restless Shore
In the north of the Restless Shore you will find two pirate camps on the beach; the Channelview Post and the Oceanview Post. Here you can always run back and forth and finish off all the enemies. Often these camps are farmed by small groups, so you can join them, but also do it solo. However, keep in mind that within a group you share your XP and thus level up slower.
If you want to upgrade your weapon quickly in New World, you can follow these tips in the game. You can earn more weapon mastery experience and materials for upgrading your weapons in these ways. In addition, if you are looking for other rare materials in the game, you can
Buy New World Coins
to purchase them from the market instead of searching randomly in New World.