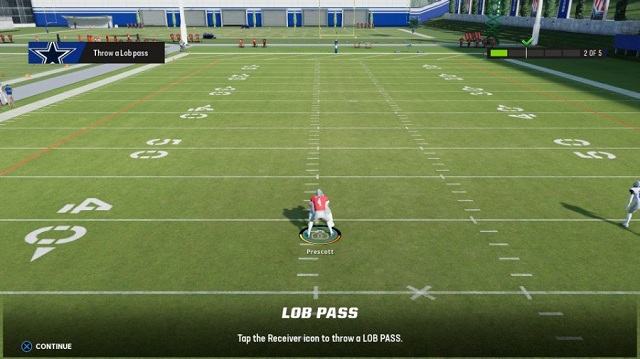 When players are going to play matches in Madden NFL 23, they are eager to win by using different kinds of skills in the game. A lob pass is an important skill in Madden 23 matches. Have you mastered this useful skill? You can read this article and learn from the guidance. Players can get
Cheap MUT 23 Coins
to build the best team in Madden Ultimate Team mode.
How to Throw a Lob Pass in Madden NFL 23
A lob pass is an aerial throw for a receiver behind opponents. It's much slower than a bullet pass, giving the receiver enough space to ditch the blockers and fetch the ball a few yards away.
Throwing lob passes in Madden 23 is straightforward. When in the passing pocket, tap the farthest receiver's button without aiming. Each receiver has a designated button shown over his head. Tap that button once to lob the ball to that particular player.
A lob pass is beneficial when the receiver is behind the opponent's defense line. But it increases the chance of interception as the ball lands a few yards away from the receiver.
In Madden NFL 23, a lob pass is slower than a high pass. It's often a deep pass, giving the receiver more time to reposition and catch. But a free-form pass is totally different. It's a high-arced or short pass into an open area a few yards away from the receiver.
As for the difference in controls, players make a lob pass by tapping the receiver's button. And they turn it into a high pass by doing the same while aiming. However, for a free-form pass, they must press the left trigger (LT or L2), throw, and lead the ball with the left joystick.
Other Useful Passes in Madden NFL 23
High Lob Pass
To do a high lob pass in Madden NFL 23, players need to tap the receiver icon and then let it go immediately. Players can also complete a high pass by holding down L1 on PlayStation or LB on Xbox before pressing the receiver icon.
The arc of a pass is controlled by how long a button is held down. The length of the button press for a pass actually works inversely to the length of the ball's flight. Because of this, players need to quickly press and release the button in order to throw a looping, high-arc pass in Madden NFL 23.
A high pass is important for getting a ball over a defender playing tight coverage on the receiver. With a properly thrown high lob pass in Madden NFL 23, the receiver will be able to catch the ball and the defender won't have the angle to deflect it.
A bullet Pass
A bullet pass requires you to hold the button of your intended target until a pass is thrown, and this pass is the easiest to perform. Throwing a lob pass is also simple as you just quickly have to tap the button of the intended target. Lob passes are great for deep balls as they allow the receiver to catch in stride.
If players want to have good performance in Madden NFL 23 matches, you can experiment these useful passes on the court. And if you want to upgrade your players fast in Madden 23, you can
Buy Madden 23 Coins
to level them up fast, which helps you win more hard matches.