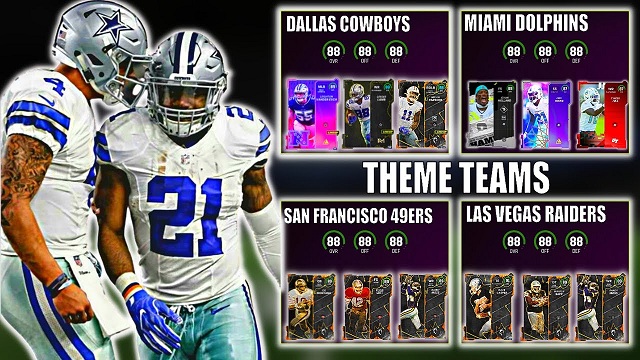 It is important for players to build a theme team in MUT 23, which helps you create the best possible MUT 23 lineup. The Team-specific chemistry can boss the ratings of every player in your squad. Do you want to know the best theme teams in Madden 23? Players can use
MUT 23 Coins
to upgrade their ultimate team and compete with others in the matches.
What is a Theme Team in Madden 23?
A theme team is a unit built entirely from players from at least 1 of the 32 NFL teams. To add boosts and ratings to your lineup, you must get more players from one team. In simpler words, a theme team has players who, at one point, played for the same franchise. If you pick the New York Giants, you could make a team consisting of Eli Manning, Lawrence Taylor, and Justin Tuck, and place them with today's players like Daniel Jones, Saquan Barkely, and Dexter Lawrence.
The List of Best Theme Teams in Madden 23
Legends Theme Team
The Legends are simply the best Theme Team in Madden 23. The team list is full of legendary players and has a total OVR of 98! With players like John Madden, Randy Moss, Calvin Johnson, and Reggie White, this is easily an S-tier team in Madden 23.
Zero Chill Team
If you can't afford the extremely expensive Legends Team, then the next best team is the Zero Chill Team. Even though they have a total OVR of 94, they are still S-tier when it comes to the best theme team in Madden 23. Several high-rated players like Tom Brady from the Legends team are present in the Zero Chill team as well.
Philadelphia Eagles
The Eagles are expensive themselves, so they are another team to choose from if you are seeking a high-demand team. Some players include Jason Kelce, Lane Johnson, Mike Wallace, Jalen Hurts, Brain Dawkins, Bill Romanowski, and Fletcher Cox.
Minnesota Vikings
The Vikings have quite the receiver core for your offense to flourish. Defensively they are not very good, but you can still make the playoffs with this team. Some players include Justin Jefferson, Randall Cunningham, Patrick Peterson, and Anthony Barr. They may not be the best, but the Vikings can put some points on the board.
Los Angeles Chargers
The Chargers are underrated because they haven't always been very good. However, their offense can put some points on the board with players like LaDainian Tomlinson, Jacoby Jones, and Justin Herbert. Players like Joey Bosa, Casey Heyward Jr., Antonio Cromartie, and Dwight Freeney can hold the fort on defense to get stops.
Seattle Seahawks
Although they are pretty weak at the receiver core compared to years past with Russell Wilson as their quarterback, they are pretty stacked on defense. It is worth noting that this theme team still has Marshawn Lynch in the backfield, so you have a huge plus with running the football. Some players include Geno Smith, DK Metcalf, Kenneth Walker III, Richard Sherman, Kam Chancellor, and Bobby Wagner. The Seahawks have been a decent team for the past few seasons.
If you are looking for the best Theme Teams in Madden 23, you can consider teams of the list. It is good for you to choose a team according to your fund in MUT 23. You can also
Buy Madden 23 Coins
to find good player cards from the transfer market.