Madden NFL 23 Best Offensive Teams Guide: How to Choose Offensive Teams in MUT 23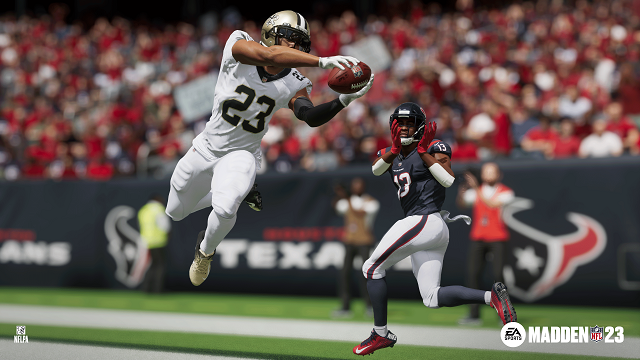 Players tend to use offensive teams to defeat their opponents in Madden 23 Ultimate Team mode, the strong and offensive team will control the pace of matches on the field. Do you know the best offensive teams in Madden NFL 23? How do you build your offensive teams in MUT 23? You will get the guidance after reading this article. Players can use
MUT 23 Coins
to level up their team in time in order to win more matches in the Ultimate Team mode.
Best Offensive Teams in Madden NFL 23
Tampa Bay Buccaneers
Tampa Bay is the complete package for Madden players. Tom Brady is the highest-rated quarterback in the game and Mike Evans is the seventh-ranked wide receiver. No team has a higher No. 2 receiver than Chris Godwin at 89 overall. There's also plenty of protection for Brady as Tristan Wirfs grades as the No. 2 right tackle and Ryan Jensen ranks as the third center. Leonard Fournette earned an 87 overall, which is good for a tie for the 11th-best running back. The biggest absence for the offense comes at tight end, with Rob Gronkowski retiring.
Green Bay Packers
Aaron Rodgers is still among the top quarterbacks in the NFL. Unfortunately, he'll have to find a new favorite target now that Davante Adams is catching passes from Derrek Carr in Las Vegas. He'll have several teammates to lean on, including Jaire Alexander in the defensive backfield and David Bakhtiari watching his blind spot at LT.
Green Bay's offensive playbook features everyone's favorite formation from Madden 22, the dreaded Bunch TE. Bunch TE gets the CPU to come out in heavier packages. Sub Sammy Watkins at the slot position (either manually or by selecting the Slot WR package from the Play call menu), and you'll get a 91-speed receiver running across the field. As long as you put Robert Tonyan (the TE) on a streak, Watkins should get open on his crosser. It's not perfect, but it works most of the time.
Once Rodgers gets in the zone, there's almost no stopping him. His Dots X-Factor ability grants him perfect pass accuracy on every throw, while his Gunslinger passive grants him faster passing speed. Coupled with Pass Lead Elite, Rodgers can hit and lead a receiver the second they get open. On the other side of the ball, Jaire Alexander and his Shutdown X-Factor will erase another team's best WR.
Buffalo Bills
The Bills have a really well-balanced team on both sides of the ball and certainly deserve this second spot. After already proving just how dangerous they are over these last two seasons alone, losing to the Kansas City Chiefs in the AFC Championship in 2020 before coming up short once more to them in the Divisional Round last season, the Bills, just like the Buccaneers, got even better over the offseason.
Offensively, the Bills received an 89 rating, matching their unit's potential quite accurately. With players like Josh Allen, Stefon Diggs, Dawson Knox, Gabriel Davis, and Devin Singletary all still leading the charge for this offense, the Bills also added wide receiver Jamison Crowder, tight end OJ Howard, and drafted Georgia rookie running back James Cook, the younger brother of Dalvin Cook.
We have listed these three best offensive teams for you to consider how to build your ultimate team in the game. You can try to refer these team build in advance. At the same time, you can
Buy Madden 23 Coins
to purchase strong offensive players from the transfer market.