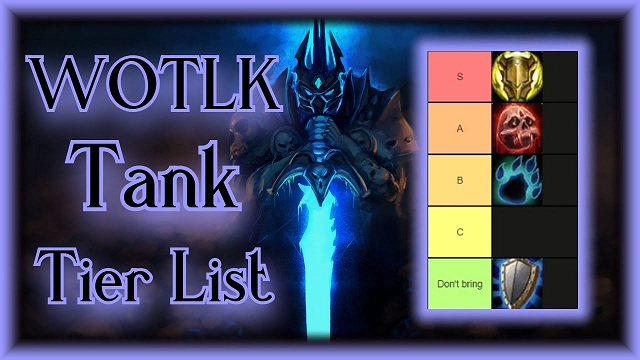 Many players are waiting for the release of WoW Classic latest expansion WotLK. Before entering into the game, they begin to consider which class to play in WotLK. Some players are willing to play Tank Class, because they think that tank class is easy to survive in fierce battles or difficult quests. Do you want to know the rank tier of tank classes in WotLK? You can read this article to find the guidance about it. Players can use
Cheap WotLK Gold
to purchase the best armor for tank class, which allow them to defend more attack from enemies.
Protection Paladin S-Tier
Protection Paladins can do just about anything you ask of them. They might not be the best at a given task, but they'll be more than capable of doing it with confidence. What Protection Paladins may lack in terms of the best threat, damage, or survivability, they more than make up for it with their toolkit. Ardent Defender helps enhance their survivability to be on par with Feral Druids. A rework to Divine Protection helps make it a cooldown on par with a Warrior's Shield Wall.
Threat wise, Protection Paladins still do exceptionally well. Hammer of the Righteous and Shield of Righteousness help Paladins become even better at gaining and sustaining threat. Consecration now scales with attack power and spell power via the Touched by the Light talent, making a core ability even better. The amount of threat Paladins can maintain in single-target and AOE abilities are very impressive.
Blood Death Knight A-Tier
Blood Death Knight is a touch squishier than the Paladin since they don't have a shield to block, but they have ways to make up for it. They are the de facto anti-magic damage tank, and honestly complement the Paladin quite well.
They do bring some great utility, with abilities like Death Grip, Strangulate, and the ever powerful Raise Ally as a combat resurrection. On top of their defensive capabilities are quite good with Anti-Magic Shell, and Icebound Fortitude. They also have a bunch of self healing abilities, which eases the burden on the healers. On top of that they have Will of the Necropolis, which isn't exactly a cheat death, but really reduces the amount of damage taken at low life.
Feral Druids B-Tier
Feral druids have the highest health pools in the game by a wide margin. This makes them extremely easy to heal and it makes your raids much more consistent. Meanwhile, they have far and away from the highest damage of any tank. You have new abilities like berserk which allows your mangle to hit 3 targets and even makes you immune to fear. Of course, you also have to innervate for your mana-hungry mages and still the only battle rez in the entire game.
One of the best parts about feral druids is that when they aren't taking a fight, they can still pump out top 5 DPS in a raid thanks to improved abilities like their multi-target cat swipe. The big downside for feral druids is that they don't have many taunt options, so they'll rely heavily on misdirects from hunters to get fights started.
If players are interested in playing Tank Classes in WotLK, you can try to consider this rank tier list of Tank Classes. And they will help you to decide which one is the best choice. In order to level up the basic stats of Tank Classes, you can
Buy WoW Classic WotLK Gold
to accelerate the process of upgrading. Then a strong tank will play an important role in the battleground.