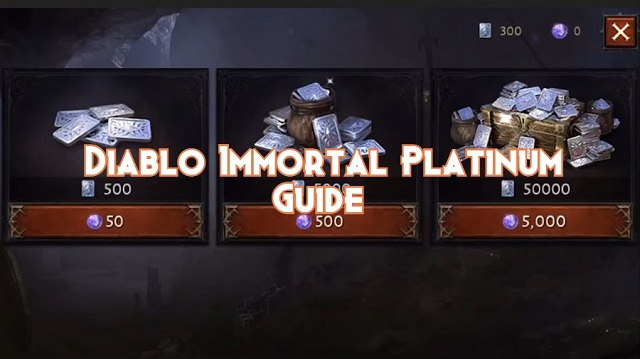 In the process of playing Diablo Immortal, players will realize the importance of currencies in the game.
Diablo Immortal Platinum
, one of three universal currencies, can be used to purchase items, craft equipment and buy legendary crests. In order to improve the ability of character, players expect to know how to farm more Platinum in the game.
Several Ways to Farm More Platinum in Diablo Immortal
Complete Daily Activity Quests
Diablo Immortal has a wide variety of daily activity quests, many of which reward you with platinum. You'll receive a new set of daily quests every day.But if you don't get around to completing them, you can stack them up for three days. That means you can earn the rewards for completing three days' worth of daily grind in all. This will get you 300 Platinum, 1 Charm, and 1 Scoria. But to claim this reward, you need at least 120 Battle Points. They are earned by completing quests and solo running through different dungeons.
Sell Extra Items Via Marketplace
When you complete daily quest or explore dungeons in the world of Diablo Immortal, you will obtain rewards. Some rewards contains good items, gear, and rare materials. You can use them to replace your low level gear and upgrade them through crafting rare materials. So, there are several extra good items in your inventory, you can sell them in the marketplace for platinum, the marketplace is located in Westmarch. After completing more and more quests, you will gather more good items for sale. You will accumulate quite a bit of platinum through this way. However, although some rare gear are worthy of a large amount of platinum, you had better consider that whether it can be used for your future character build.
Buy Bundles or Packs For Platinum
If you want to get a large amount of Platinum in a short time, buying bundles in the game shop is the easiest ways for you in Diablo Immortal. Every Diablo immortal player is familiar with the game's in-game shop, where they can purchase both in-game items and platinum. The only way to get Eternal Orbs, which are required to buy platinum, is to spend real money on bundles and packs from in-game shop. You can buy 7200 Eternal Orbs for $100.
500 Platinum for 50 Eternal Orbs
5,000 Platinum for 500 Eternal Orbs.
50,000 Platinum for 5,000 Eternal Orbs.
It may cost your real life money for Platinum, if you have no more time on completing daily quests, you can try this way. Otherwise, just spend more time on exploring the world of Diablo Immortal, there are many quests waiting for you to accomplish. And you will enjoy yourself in the process of questing.
How to Use Platinum in Diablo Immortal
You can use it to craft or forge several Legendary gems at the Apprentice Jewelercrafter. Platinum currencies can also be used to purchase Echo Crystals and Legendary Crests. For that, head over to the Crystal Merchant and the Crest Merchant to purchase them. You had better stack this currency for legendary gems.
Players know the way to farm more Platinum and use them to get their desired items in the shop. While for high level gear or equipment, you can
Buy Diablo Immortal Gold
to get them from the shop merchants in the city.