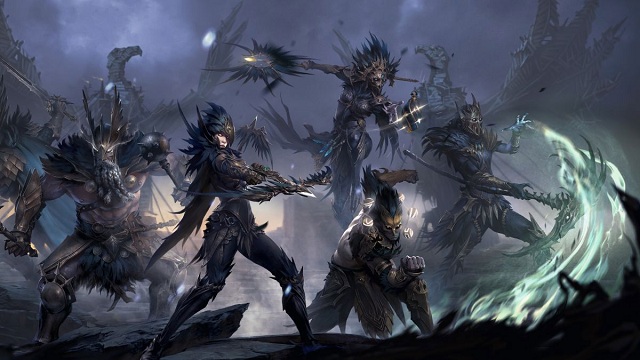 Diablo Immortal features cooperative multiplayer, where players can team up to play against each other. While Diablo Immortal offers quite a few multiplayer options, actually playing the game with others is sometimes easier said than done. That being the case, here's how to access Diablo Immortal's multiplayer features. If you want to
buy Diablo Immortal Platinum
to upgrade your gaming gear, please come to rvgm.com for consultation.
How to Unlock Multiplayer?
When you first start your Diablo Immortal journey, you'll be guided through the Wortham area tutorial, and won't be able to see or play with anyone during the first few missions. You can only complete the tutorial after you have defeated Unseen Lair's boss and returned to Wortham for the world map.
How to Add Friends and Invite Friends?
Add friends through the Friends menu. Players who just want to play and party with their friends can go to the "Menu > Friends" section and click the "Add Friends" button. From there, enter your friend's Battle.net ID to send them a request.
In Diablo Immortal, you can team up with friends in one of two ways. Select or click the "+" icon next to the character portrait. These icons pull up the "Invite" tab, allowing you to choose a player from your friends list to join you. Alternatively, you can revisit the Friends tab from the main menu, select or tap the button that looks like a speech bubble with three dots, and invite them from there.
How to Find and Join a Party?
Diablo Immortal comes with the standard features of most modern MMOs. You can find this feature next to the Friends button on the main menu. Just click or tap the party search and the game will generate a new tab allowing you to customize what you're looking for. If you want to join a forming party, just scroll through the list of options, such as character level, region, and difficulty, and the game will pair you with a partially forming party. However, if you want to create your own team, you can use filters to generate your own search parameters and the party finder will automatically pair you with other players.
How to Create and Join a Clan?
A clan is a small social group that supports up to 8 players. They're designed to make it easier for friends who regularly play group content together to actually find each other. Even better, play with your clan and you can get exclusive bonuses and clan-specific content. In addition to access to a special clan storage room, clan members can also challenge Helliquary bosses, earn ranking rewards, unlock reward chests, and enjoy a 5% loot drop bonus when playing with clan members.
To create a Chapter, you'll need to complete the "Build a Chapter Camp" quest, which requires you to clear 10,000 monsters from the camp area. There, open the "Friends" menu and select the "Create Clan" option. You can invite members from there.
If you want to join an existing clan, navigate to the friends menu and go to the clan section. There, you should find a list of publicly available clans. Just know that each clan advertises what kind of content they will be running and what time of day they usually play together. Try to find one that best suits your schedule and play style.
With more players, your team's damage output, as well as damage tolerance, increases. If you want to have an advantage in team battles, it is recommended that you purchase
Diablo Immortal Gold
to equip your game characters.