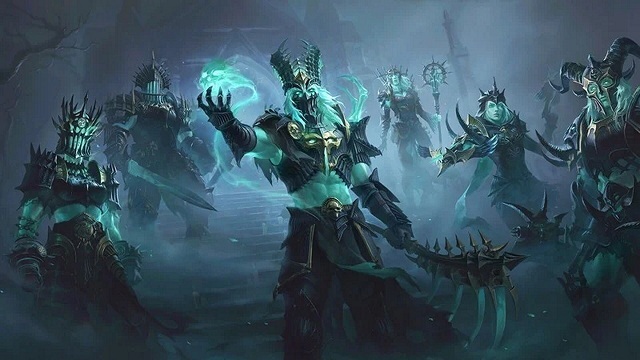 In Diablo Immortal, players build their characters and level them up fast by exploration. Although they have killed more monsters in the process of completing quests, they are also willing to compete against opponents in PvP Battlegrounds Mode. Some opponents are powerful in battle, players should know some essential tips that helps them play well in PvP Battlegrounds in Diablo Immortal. Players can get
Cheap Diablo Immortal Platinum
to upgrade gears of characters and collect good materials for upgrading.
PvP Battlegrounds Mode in Diablo Immortal
Battleground is a timed 8v8 PvP battle where each side has specific objectives that they have to complete and is considered a practice ground for Rite of Exile. It is a perfect medium whether the Immortals will keep their position or the Shadows overthrow them and take the position for themselves. If you're new to the Battleground mode, you need to stick together with your teammates while keeping in mind the objectives. We'd also recommend you switch your build if you could in Battleground PvP. Knockback, Crowd Control, and Interrupt Effects are some of the best abilities that can secure you a win if you do everything right.
How to Play Well in PvP Battlegrounds Mode in Diablo Immortal
Allocate Points to Different Skills
In PvE, it is often helpful to invest everything into one skill tree to get to the deep rewards on the far right. In PvP, there is little reason to do so. Of course, all the skills are valuable, but the most valuable skills for PvP players tend to be located in the first few columns.
Different builds will value different skills. Extra damage for DPS builds and protection for others are a plus. If gamers feel restricted to a single tree, they should resist the urge to over-specialize and get what is most valuable and least expensive.
Know Your Role in Battle
Know your role in the fight. Just because you are good in PvE doesn't mean that you will have the same worth in the same role in PvP. If you are not able to dish out high damage, play support and help your highest DPS teammate. The PvP mode requires team coordination and you need to make sure you are coordinated with your team.
Equip Necessary Movement Speed Skill
Movement speed abilities can help you out in a pickle. You can use them to chase after enemies, escape from trouble, and avoid incoming attacks. Select at least one of the following Movement Speed skills:
Furious Charge, Draw and Quarter, Mystic Strike
Know Class Matchups in Battle
There's a reason that Demon Hunters don't stand toe-to-toe with Barbarians. Given that some classes are oriented towards tanking while others are oriented towards DPS or support, it's natural that when two characters clash in the field, one may be at a natural advantage simply because of their role.
Understanding how the different classes match up against one another is important so that a weak support character isn't one-shotted by a brutal DPS strike. Whether the player's ideal position is on the frontline, mid-rank, or backline, they should always be positioning themselves so that they can perform their role.
PvP Battlegrounds Mode is competitive in Diablo Immortal, players should pay attention to build your characters and perform well in battle. And you can also
Buy Diablo Immortal Platinum
to select the right gear for characters in order to enhance their abilities in the game.