Diablo Immortal Barbarian Build Guide: Best attributes, Legendary Items, Skills and Gems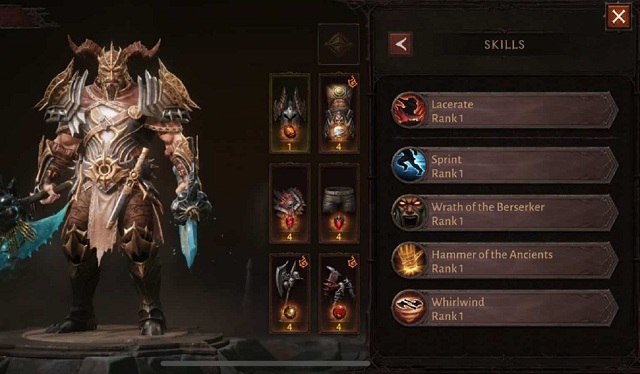 There are a variety of classes for players to play in Diablo Immortal. Barbarian is one of the melee classes in Diablo Immortal, many players are willing to choose him in the beginning. While it is not easy to build an unstoppable Barbarian in the game. If you want to know how to build the best barbarian in Diablo Immortal, you can read this article and find the guidance. Players can use
Cheap Diablo Immortal Platinum
to purchase more rare materials for crafting the best gear or items for characters in Diablo Immortal.
Barbarian Class in Diablo Immortal
The Barbarian is a one-person army who has no need for fancy spells, minions, or creeds. All they need is a big axe, lots of stamina, and some warpaint to crush their foes beneath their feet. This is a character class that is trained to use most weapon types, so is perfectly adept at swinging whatever that may be into a demon's face.
Best Barbarian Attributes in Diablo Immortal
Strength
Fortitude
Vitality
Strength is the go-to attribute for Barbarians. Every point you put into Strength not only increases a Barbarian's Combat Rating by 1, but also boosts their damage by 0.33.
Armor Penetration is always going to be useful when you're wailing on enemies, but as a cheeky bonus Fortitude also grants an additional +0.1 Armor. This might not seem like much, but every little helps when you're constantly getting up close and personal. Increasing Armor also increases your Block chance, mitigating 20% of damage dealt.
As for any melee class, Strength is the most important attribute for a Barbarian in Diablo Immortal. It increases your damage for all skills, making it an obvious focus for anyone who opts for the Barbarian class. Vitality and Fortitude follow closely behind, with Vitality increasing your Life and Fortitude raising your Armor. These will help you survive while tearing through the middle of a group of demons, ensuring your survival in even the most hellish conditions.
Best Legendary Items For Barbarian
When assembling the best Barbarian Whirlwind build, we'd opt for these Legendary items:
Head – Second Breath
Shoulders – The Coming Storm
Chest – The Gathering
Legs – Screaming Fury
Main Hand Weapon – The Tempest
Off Hand Weapon – The Remembered
Best Skills For Barbarian Class
In Diablo Immortal, your skills are what you use to deal damage and inflict effects upon enemies. Barbarians are particularly powerful lone warriors, able to heal themselves while dishing out devastating damage.
Below, you can find the best skills for a Diablo Immortal Barbarian build:
Primary Skill: Frenzy (unlocked at level 32)
Whirlwind (unlocked at level 8)
Leap (unlocked at level 28)
Undying Rage (unlocked at level 44)
Wrath of the Berserker (unlocked at level 50)
Best Gems For Barbarian Class
Tourmaline
Sapphire
Citrine
Tourmaline increases your damage, making it a valuable gem for any build, but it's particularly important for Barbarians. Prioritise Sapphire to increase your Armor Penetration against those fortified single-target enemies, but keep in mind that the Crit Chance gained from Sapphires caps out at 33%. If you're no longer feeling the benefit, make the switch to Aquamarine for some useful damage mitigation from the additional Armor. The bonuses from Yellow Gems are quite underwhelming for Barbarians, but we would recommend Citrine over Topaz to maximise the duration of any harmful effects you inflict upon enemies.
From this article, you can know the basic guidance about how to build the best Barbarian in Diablo Immortal. In order to get the legendary items or gems for barbarian, you need
Buy Diablo Immortal Gold
to purchase them from the shop or trade from the merchant in the game. Good equipment will improve the capacity of Barbarian in Diablo Immortal.