NBA 2K22 Best Finishing Badges Guide: How to Choose Finishing Badges For Players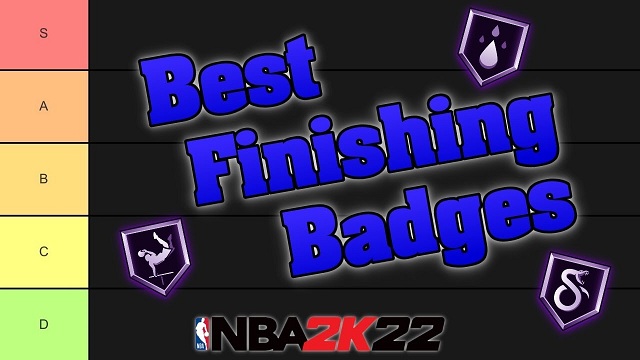 In order to score more goals on the court, players need to pay attention to choose the best finishing badges in NBA 2K22. There are different kinds of finishing badges in the game, you can learn from this article to know how to choose the right ones. To upgrade your badges level, you can
Buy NBA 2K22 MT
to earn more XP for leveling in the game.

Giant Slayer
Moving toward the basket at a high speed is a rush, but it's all for nothing if the result is a miss at the hoop. Against big men in the middle, this is a problem that can last for an entire game. Defenders here don't need great stats if everybody who attacks doesn't have the length that they do.
Giant Slayer enables shooting over these taller defenders with greater success around the rim. Finding ways over their heads and around their arms is critical to anybody that is hoping to score over opponents taller than them.
Slashers should consider this a must. All centers will be taller than them, most of the time by significant margins. Many forwards can use this too. Really, the only players that don't need this are tall centers that don't plan on making the layup their primary shot.
Limitless Takeoff
It's everything that it says on the tin, it's flashy, it's skilful and it'll make you the envy of your opposition. It allows you to begin your dunk/layup earlier than those who don't possess it too, making it extremely difficult to defend against. It may not be one of the best in terms of the actual benefits that it provides to those who pick it up, but it is the best in terms of bringing out those highlight reel plays.
This is a badge that is most beneficial for those who are thinking of completing a slasher build.
Fearless Finisher
The defense system has increased greatly in NBA 2k22, and to counter this you need the Fearless Finisher badge. This will increase the ability to finish through contact layups. It does so while decreasing the energy used. Without it, you will struggle to finish with even the best of the NBA players. You will find that many of your shots get blocked if you don't have this badge.
Acrobat
The description for the Acrobat badge reads that it "boosts the ability to make layups that have a high degree of difficulty." Layups that have a low degree of difficulty frankly don't need badges, the shot meter pretty much doesn't even matter.
The acrobat helps with all of those contested layups. As previously stated, most layups for finishers will be contested. Of all the badges on this list, this one will be the most frequent one to pop up, helping out on most shots in the vicinity of the backboard.
Things can get pretty busy underneath the rim, especially for players that make offensive rebounds. Also, slashers that don't like to pass out every time they charge in will want the Acrobat badge to fight through the defense.
Pro Touch
Pro Touch and Consistent Finisher were always close rivals to each other in Finishing Badges in the previous NBA 2K titles, but this year, Visual Concepts has completely removed Consistent Finisher.
The functionality of the Pro Touch remains the same as before. It has always been a good help for finishing off your layups successfully as getting an excellent shot in tough situations is not easy.
Good finishing badges can help you score more goals easily when you encounter the strong defender on the court. You can also use
NBA 2K22 MT
to unlock more badges and improve the abilities of players in the game.