Best Diablo Immortal Monk Build Guide: Best Skills, Attributes, Legendary Gems, and PVP Gear for Monks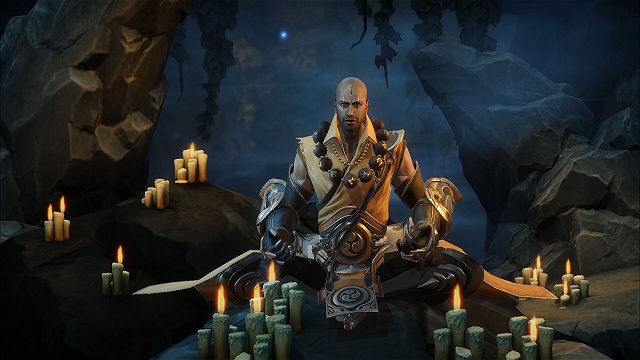 Are you looking for the best Diablo Immortal Monk builds? Monks are the melee/fighting class in Diablo Immortal. It's also very agile, allowing you to escape quickly after dealing damage. If you like getting up close and personal with your enemies, but don't like using traditional melee weapons like swords and axes, the Monk is for you. In this guide, we'll break down the best Diablo Immortal Monk builds, including skills, attributes, legendary gems and PVP Gear you should be using. If you need to upgrade your gaming gear with
Diablo Immortal Platinum
, please come to rvgm.com for consultation.

Diablo Immortal Monk Best Skill
Primary Skills:
Fist of Thunder:
Teleports to nearby enemies and unleashes a barrage of fists, teleporting away after each hit. Fist of Thunder focuses on a single enemy, but monks are able to move in and out, controlling the flow of battle.
Core Skills:
Cyclone Strike:
Unlocked at level 1
Create a whirlwind that pulls enemies and deals damage
Mystic Strike:
Unlocked at level 15
Dash forward and leave a soul behind, pulling enemies and dealing damage
Inner Sanctuary:
Unlocked at level 38
Places a protective runic circle for 9 seconds, reducing damage taken by you and your party by 50% while inside the circle
Mystic Allies:
Unlocked at level 44
Summons two soul allies to fight for 10 seconds, dealing the same damage as yourself
Diablo Immortal Monk Best Attribute
Strength
Fortitude
Vitality
For monks, you want to have strength as the primary stat, but toughness is just as important for taking damage as it is for protecting your party from damage, as you will often be in combat.
Diablo Immortal Monk Best Legendary Gems
Everlasting torment
Fervent Fang
Berserker's Eye
Eternal Torment is an excellent Legendary Gem that is worth getting back for yourself. Fervent Fang is a huge damage booster that will only increase over time. It provides a nice boost if you want to take out an elite enemy, and is one of the better high-priority gems in the game. The Berserker's Eye is an important gem that will significantly increase your damage output, but at the cost of more rewards. If you can take more damage, you will benefit greatly from all its boosts.
Diablo Immortal Monk Gear Build - PVP
Head: Crippling Insight
Shoulders: The Weight of Discipline
Chest: Resounding Soul
Legs: Path of the Storm
Main Hand: Dragon's Indignation
Off Hand: Eye of the Storm
This concludes our guide to building the Monk in Diablo Immortal. If you think Monk is right for you, it is recommended that you purchase
Diablo Immortal Gold
in advance to upgrade your game equipment and show off your style in the Diablo Immortal game.