Lost Ark Sliver Farm Guide: Lost Ark Silver And How to Get More Silver in Lost Ark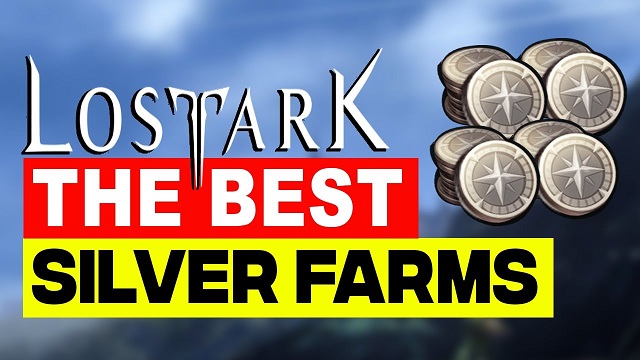 Silver is a normal material in the world of Lost Ark. In the process of leveling up characters, players will get a large amount of Silver. Although they have accumulated a lot of silver, Ability Stone Faceting and Honing attempts cost silver quickly. While in Tier 3, Silver has the same importance as Gold. Players should pay attention to collect Silver in the process of exploration in Lost Ark. There are some ways players can grind this precious resource in Lost Ark. In addition, if players want to level up characters quickly in Lost Ark, it is a good idea to use
Cheap Lost Ark Gold
to accelerate the process of upgrading.

Una's Tasks or Side Quests
Firstly, Players can get Silver rewards from specific Una's Tasks or some Side Quests. Especially, Una's Tasks are easy to find out which offers the most Silver. You can go to the Una's Tasks Menu, then Reputation Status, then select the best rewards from different missions.
However, the most reliable source of Silver is the Lopang Island Tasks. You can find Special Delivery in their Quest name, along with a different Quest available for every main region. To Set up a character or various characters Bifrost at Lopang Island and then three of the best reward spots, like Arthetine, Vern, and Shushire. They are worthy of the Bifrost Slots and the time investment. As this route set up, players can get a large amount of Silver depending on their numbers of characters and character's item Level.
Chaos Dungeons
The Chaos Dungeons runs by consuming the player's Aura of Resonance and gives a large amount of Silver back. Players may ignore how much Silver in one run of Chaos Dungeon, they are also along with other things, such as Accessories, Armor Pieces, and even Special Tickets. Each run gives about 100k on a Tier 3 character in Lost Ark.
Chaos Dungeon Secret Rooms
When it comes to Chaos Dungeons, players should not depend on the standard room to earn Silver or Gold in these mob-clearing arenas. Some golden portals sometimes appear in the secret rooms, which offers a bit of bonus Silver in the process of dungeon adventure. They can be considered as the extra way to obtain the rest of the Chaos Dungeon gives. However, players should know that the regular rooms cost Aura of Resonance as well, you can also get Gold and extra materials without Resonance run.
Side Quests or Adventure Islands On Alternate Character
Some Side Quests are worth skipping in the world of Lost Ark, while others Side Quests are worthwhile to complete. Players can earn a lot of Silver through completing different Side Quests. However, each character has specific Side Quests and they are not repeatable in the game.
Many players may ignore the fact that Lost Ark allows players re-complete Side Quests around the different Continents and on all the various Adventure Islands on alt characters. Players can use Knowledge Transfer to obtain an alt to level 50, meanwhile, the Side Quests are all effective in the world of Lost Ark.
Lucky Stages IN The Dimensional Cube
Players have access to find some Treasure Rooms in a Dimensional Cube depending on the party's luck. According to the different situations, players may get different rewards in these rooms.
Some players may just get some normal items from a chest, while others may get rare materials or weapons from the Treasure Chest. And these rewards comes along with Silver as well.
If players are lack of Silver in the game, you can try to use these ways to collect them in Lost Ark. During the process of collecting, you can also
Buy Lost Ark Gold
to purchase some unique materials from the local merchant in Lost Ark. They will help you craft your basic equipment in the game.