Lost Ark Game Guide: Players Need to Know More About the Ability Stones in Lost Ark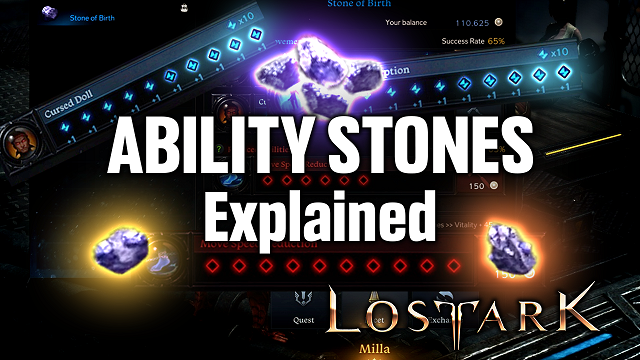 As players reach Level 50 in Lost Ark and obtain their Tier 1 Set, they need to know about the Ability Stone mechanic. They need to be familiar with faceting at the Ability Stone Cutter. In Lost Ark, the meaning of Faceting the Ability Stones is the same as cutting a gem in the reality, which makes them fit better in the ring. Players can choose to cut the unneeded parts of the stones in order to enhance the obvious effects of them. However, each faceting may have the chance to make the stones worse or even crack. It may cause the Reduced Ability Score in the end. So, players need to learn more about the Ability Stones in Lost Ark. Meanwhile, players can collect more rare crafting materials for trade skills by using
Cheap Lost Ark Gold
in Lost Ark, they will make characters grow fast in the continent.

What Are Ability Stones in Lost Ark?
After reaching level 50, players will get Tier 1 Armor as well as Ability Stones. Ability Stones can be used as the way that players put more control on the specific level of Engravings according to the right time. What's more, with the improvement of the next Item Level Ability Stone often bring a large stat increase in all Vitality.
Among all three tiers of Ability Stones, there are Rare, Epic, Legendary, and even Relic-grade Ability Stones for different items. Players can classify the rarity of Ability Stones according to how many nodes they have for each of three lines. Just like the two slots of their Engravings, the Ability Stone is considered as the most efficient way to add a specific Engraving or even two.
How Do Ability Stones Work in Lost Ark?
Generally Speaking, players can try to facet each of the nodes in these three lines of the Faceting menu, and you may succeed or fail. When you succeed, the node is filled and will be applied to that specific Engraving if equipped, like the Cursed Doll. It will be enhanced to the high level of Engraving. However, if you fail, the slot may keep empty and useless for this Ability Stone all the time. Although there are ten potential node bonus on the Ability Stone, you can only activate two or three of them eventually depending on the luck of these attempts. Even worse, you may not have no nodes bonus on the Ability Stone.
In addition, the third line of each Ability Stone stands for a negative effect named a Reduced Ability, like Defense or Move Speed reduction. So if you want to get more benefits from Ability Stone, you can attempt to facet the nodes in the third line of them.
Each successful Faceting attempt will lower the chances of next attempt by 10%. On the contrary, every failure will increase the next attempt of faceting. So, players should not complain about the bad luck of attempting in Ability Stone, which is based on the balancing system.
How to Deal With Ability Stones in Lost Ark
Players can obtain Ability Stones in normal quests or other activities, so they may collect a large amount of them in a short time. If you have stored the necessary Ability Stones for your gear, you can put extra stones on the Auction House. According to the state of the marketplace, it is a good way for players to collect a large amount of Gold by selling these Ability Stones.
When players have succeeded in faceting the good Ability Stones in Lost Ark, you need to find the suitable weapons to equip them. You can
Buy Lost Ark Gold
to purchase the best gear from the shop in the game. And the enhanced weapon with crafted Ability Stones will have more effects in the Abyss Dungeons.