WoW Dragonflight Healer Tier List: How to Select Healer Class in World of Warcraft Dragonflight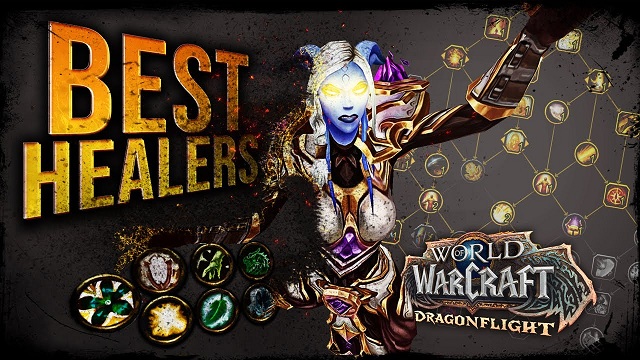 More and more players have joined in the exploration of World of Warcraft Dragon expansion. There are various classes for players to choose in the world of Dragonflight. Some players are willing to become the supporter of the team, so they will choose the healer class. We are going to tell you the healer tier list in WoW Dragonflight. You can look it through and choose the best healer class in the game. Players can use
Cheap WoW Classic Gold
to get good weapons or gear for characters in order to protect them from powerful attacks in dungeon raids.
WoW Dragonflight Healer Tier List
Restoration Druid (S Tier)
The Druid Restoration is excellent when it comes to maintaining a constant flow of care across multiple targets of a raid. It also offers big bursts of care after using its cooldowns. Restoration Druids also do the job when caring for a small number of targets for an extended period of time, such as players suffering from debuffs. The Restoration Druid usually suffers when it has to react to damage for which it was not prepared and when it has not had time to configure its HoTs in advance. Tranquility and Fulfillment offer strong healing when needed.
We keep all the tools that made us strong while having better access to some powerful tools that we could not afford in the old talent system, such as Germination. We have more choices and access to interesting passive DPS while maintaining the extremely fun overall style of play that we are used to using.
Preservation Evoker (S Tier)
Preservation Evoker, one of the new classes to World of Warcraft is incredibly broken. They have some burst damage to go along with their healing, and by using empowered spells, you can heal the whole team in a pinch and deal big AoE damage. By using a combination of spells, you will be able to dish out big heals frequently, but if that doesn't go to plan, you can turn back time to be able to keep on top of things.
Due to the type of healer that Preservation is, they are reliant on their position, as the range of their abilities is small, but they are powerful. Because of the damage they can output with stacked buffs, they are a great asset to a Mythic+ team. However, their range for healing spells is a maximum of 30 yards. They have their uses, but for situations where players have to spread out, as they won't be able to reach them as easily.
Holy Paladin (A Tier)
The Paladin class tends to be better at buffs and defense rather than out-and-out healing, but if used correctly, they can still be a decent choice to fill the healer role in your group. Specifically, the Holy Paladin is a great choice for any dungeons in which you've struggled to keep your healer alive.
Just like most Paladins, the Holy Paladin is very hard to kill. Unlike most healers, they're liable to be the last member of your party standing. That said, they do suffer from reduced mobility, which is one hell of a factor when it comes to being in the right place to keep your party alive.
We have listed three kinds of healer class in WoW Dragonflight, and these classes are all good choices for players who expect to become the support role in the team. If you want to level up your characters quickly in the game, you can
Buy WoW Classic Gold
to purchase the leveling items or enchant, which accelerate the process of leveling in Dragonflight.