World of Warcraft: Dragonflight New Race Guide: New Dracthyr Race in Dragonflight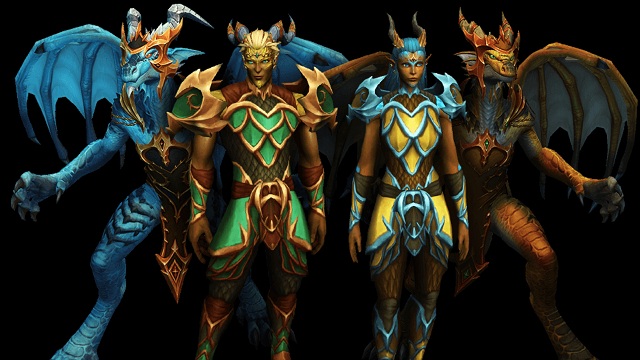 There will be a brand new race to the coming World of Warcraft: Dragonflight. It is the Dracthyr Race. If you are interested in the introduction of new Dracthyr race, you can read this article carefully. You can buy
Cheap WoW Classic Gold
to get more rare items for crafting more good items for your characters in order to improve basic stats.

WoW Dragonflight New Dracthyr Race
The Dracthyr are an ancient race of humanoid dragonkin that were created by the former black Dragon Aspect, Neltharion, also known as Deathwing, in an attempt to make the ideal soldier.
Dractyhr are a first of their kind in WoW when it comes to playable races, despite similarities with Worgen shifting between two forms, and starting at level 58 in their own zone similar to Death Knights and Demon Hunters.
This flair comes in the form of their starting zone, only having one playable class, the ability to glide and fly over the top of battles, and a plethora of customization options.
What's special about the Dracthyr is that they only have access to the one class and one class only: the Evoker class. Evokers can only be Dracthyr, and Dracthyr can only be Evoker.
Dracthyr will have access to a different form of dragonriding. Due to the fact they have wings and they are technically dragons, they can fly. It isn't as powerful as the dragonriding players will eventually unlock at max level, but it will still be useful.
Dracthyr will be a mail-only race. When in visage form, you'll have access to a full transmogrification. However, when you're in Dracthyr form you'll only have access to shoulders, belts, and tabards.
How to Play With New Dracthyr Race and Evoker Class
Dracthyr Evokers are a mail-wearing class and have two specs to choose from. They can play as healers with the Preservation spec or ranged damaged using claws and fire breath attacks with the Devastation spec. They will also be able to wield the magic of all five dragonflights and will have unique prismatic visual effects. In the Devastation spec, attacks will visually focus on red magic for area attacks and blue magic for single target attacks. The Preservation spec focuses on green magic for growth and nurturing while bronze magic is for the more "timey-whimey" spells like faster healing. No word yet on how black dragonflight magic factors into the class.
The Dracthyr are the first brand-new fully fledged race to the game since the Pandaren were added in Mists of Pandaria. Battle for Azeroth added the allied race system to the game which saw the introduction of 10 new races. However, these 10 races were based on pre-existing models and the majority served as offshoots of the major races in Azeroth, The Dracthyr are an entirely new race to the game and do not fall under the allied race system, and because of this they bring with them a whole host of new customization.
Some other features exclusive to the Dracthyr race are the ability to charge up an attack or spell to do more damage or hit more targets as well as executing some abilities with a flying animation. Picture the Dracthyr gliding directly towards the enemy, breathing fire in their path in a straight line as they go.
If you are going to play as Dracthyr race in the coming WoW Classic Expansion: Dragonflight, you can
Buy WoW Classic Gold
to level up your characters quickly, which allow you to join in high level raids in the game.