The Best DPS Classes to Play in TBC Classic: Tier List of the S Tier Specs in Burning Crusade Classic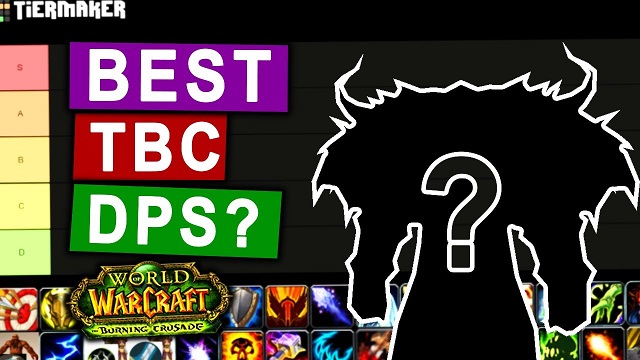 What is the best DPS class in WoW classic Burning Crusade? In this article, you can find the best DPS rankings for World of Warcraft the Burning Crusade.
According to Warcraft Tavern which has compiled data from raids via wwsscoreboard.com and legacyplayers.com the best DPS Rankings are as follows:
1 - Hunter 1,740.48
2 - Warlock - 1,721.31
3 - Mage - 1,531.13
4 - Shaman - 1,319.78
Warlock
Overall Warlocks in Burning Crusade Classic bring some of the top damage in the game for single target as well as multi target or AoE, as well as great utility. Warlocks bring curses, Master Healthstone, Ritual of Summoning, wipe prevention in the form of Master Soulstone, crowd control in the form of Fear and Banish. In the Burning Crusade, Warlocks get Seed of Corruption which has a high AoE cap, can crit (which forgoes the cap) has a 15 yard explosion range, and can be cast from a safe distance, making it one of, if not the best, AoE spell in the game. Warlocks have a plethora of viable raiding specializations each shining in a unique way.
Hunter
Let's jump into the meat and the potatoes of this video. Hunter has very strong DPS in TBC. Many players will obviously choose a Beast Mastery Hunter, but some players will also choose a Survival Hunter. The Beast Mastery Hunter is arguably the strongest DPS in the entire expansion, and it is sure to be one of the most popular specs in TBC. Survival Spec is very flexible. You can choose the Master Tactician Talent if you don't think you have enough crit. You can also move the points from Clever Traps into Imp Traps.
Mage
Unsurprisingly, the Paladin placed dead last for DPS Rankings. If you are looking to choose the highest DPS class, the Hunter or Warlock classes are the clear winners, virtually tied for 1st place. The Mage isn't a bad 3rd option if that's more your style, but they do 13% less damage on average, which is a considerable amount.
Shaman
Enhancement Shaman is the next highlight for melee, and it's a good time to be a Shaman with the class coming to Alliance in TBC. In raw numbers, Enhancement should top Elemental, however, much like the Rogue in tier A, fight length could impact that. Regardless, Enhancement is always wanted for their raid utility, while Elemental lacks anything extra that Enhancement can't already bring.
If you want to learn more about TBC Classic guides, you can click TBC Classic News. Furthermore, as a highly-experienced gaming store, we mmocs.com provides you with cheap
WOW Classic TBC Gold
, as well as TBC Classic items, mounts, pets & accounts service!