FIFA 22 442 Best Custom Tactics Guide: How to Win Matches With 442 Custom Tactics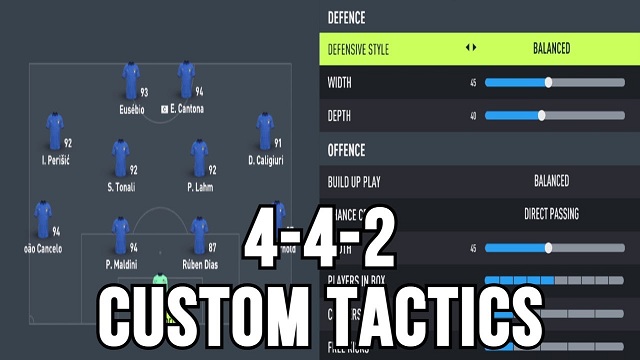 In order to win more matches in FUT 22, player need try to make various custom tactics for their teams. Today, I advise you to make 442 Best Custom Tactics for your team. If you want to build a good team, you need spend
FUT 22 Coins
to gather good players in different positions for your dream team.

FIFA 22 Best 442 Custom Tactics
4-4-2 is perhaps the most Meta formation this year. With the rights set of Custom Tactics you can easily get wins every time dominating your opponent both offensively and defensively. People say that the 4-4-2 is very weak defensively. But with these set of tactics you would be surprised to see how defensively stable the formation can be.
Player instructions:
Left-back: Stay back while attacking
Right-back: Stay back while attacking
LM & RM: Cut inside,
CM: Cover center (use box-to-box midfielders)
ST: Stay forward, Get in behind
Defensive tactics
Defensive Style: Balanced
Depth: 50
Offensive tactics
Build Up Play: Balanced
Chance Creation: Balanced
Width: 50
Players In Box: 50
Corners and Free Kicks: 2 bars
The conventional 4-4-2 is quite adaptable, meaning that you can make it as offensive or defensive as you like with your Custom Tactics. But if you're opting for the 4-4-2 Holding then there's a good chance you're looking to keep it tight at the back. Defensively, you should be pretty safe, but getting the ball up the pitch when in possession can be quite laboured, so we'd recommend opting for Long Ball as your Build Up Play style.
If you feel you're not getting enough options upfront, even with the two strikers, then you can instruct your LM and RM players to Cut Inside, but you will lose width this way and may have to instruct your LB and RB to Overlap in order to offset it. Just be warned that this will leave you exposed in wide areas, and if you're up against an opponent who has pacey wingers then they will punish you.
How to Play 442 Formation
If you try to put multiple short passes with the 4-4-2 trust me it will not work. It is not the meta this year and it will never work. The more you learn to adapt to the meta of the game the more you success you will get. Lobbed Through Balls are absolutely cracked in this game. The best way to play the 4-4-2 is to ensure you spot the runs of the players and lob the ball to them. Whether its on the wings or towards the strikers you just need to play through balls to them. This formation does not create triangles for you so trying to play this through short quick passing would never work.
Pass the ball to a striker as quickly as possible. Point towards the second striker and press the trigger run button to send him on a run. Lob the ball to him just when he is about to cross the defender. You can go for ground through balls too. You can also do this with trigger run and passing as well. Press Trigger run and pass then lob the ball to the player taking the run. Also send your LM and RM on runs in the same way. You will be surprised at the number of chances you would create every single game.
Players can try to experiment the 442 formation for your team in the matches, if you want to change players in your team, you can
Buy FIFA 22 Coins
to purchase good players from the Auction Market. Some good players are sometimes cheap.