WoW Classic TBC Release Date, Deluxe Edition, Subscription Cost & Pre-Expansion Update Patch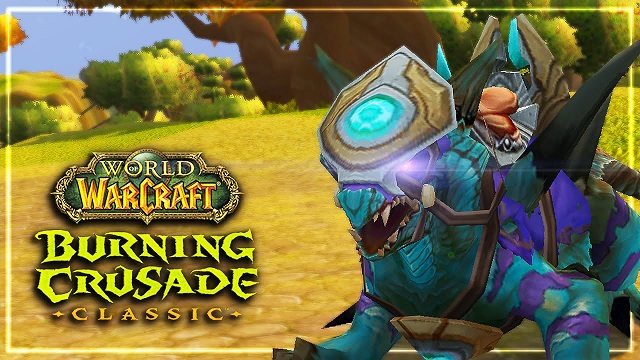 The WoW Classic TBC pre patch will arrive on Tuesday, May 18th! And after the launch of pre patch, the World of Warcraft TBC Classic is going to be released on June 1st.
WoW Classic TBC Deluxe Edition
The WoW Classic TBC Deluxe Edition costs $69.99, and offers the following rewards:
The Reawakened Phase-Hunter mount, a creature that draws on the otherworldly energies that transformed Draenor into Outland, for use only in Burning Crusade Classic and designed to match the look of the original expansion
·The Viridian Phase-Hunter mount, a variant for use in modern World of Warcraft (including Shadowlands) and reflecting the game's current visual style
·A Dark Portal Hearthstone for use in Burning Crusade Classic, providing a unique visual effect inspired by the gateway between worlds
·The Path of Illidan toy for Burning Crusade Classic, which causes your character's footsteps to leave flickering fel fire in their wake for a short time
·The Dark Portal Pass, which boosts one character to level 58 (same restrictions as standalone Dark Portal Pass apply; cannot be combined with standalone Dark Portal Pass purchase)
·30 days of World of Warcraft game time, providing access to WoW Classic, Burning Crusade Classic, and the modern game
How much will the subscription cost?
Like WoW Classic, Burning Crusade Classic is included in a World of Warcraft monthly subscription, which is $15. You won't have to pay anything extra—unless you want to buy a level boost or clone your character so it can keep playing on vanilla servers.
Pre-Expansion Update Patch
Beginning May 18 with the launch of the Burning Crusade Classic pre-expansion patch, WoW Classic players will choose whether to progress each of their characters to Burning Crusade Classic with the rest of their realm, or continue playing the original WoW Classic content on brand-new Classic Era realms also launching that day. Players who wish to experience the best of both worlds will be able to use the optional character cloning service (available May 18, $15 per character), which will allow them to continue playing a copy of an existing character on a Classic Era realm while also advancing into Burning Crusade Classic.
Buying some gold is just another way for you to enjoy TBC Classic on your schedule. We know most of you are looking for a simple, fast, and secure site to buy
WoW Classic TBC gold
. Browse Rvgm.com and find out the reasons why rvgm.com is the best place to buy TBC Classic Gold.