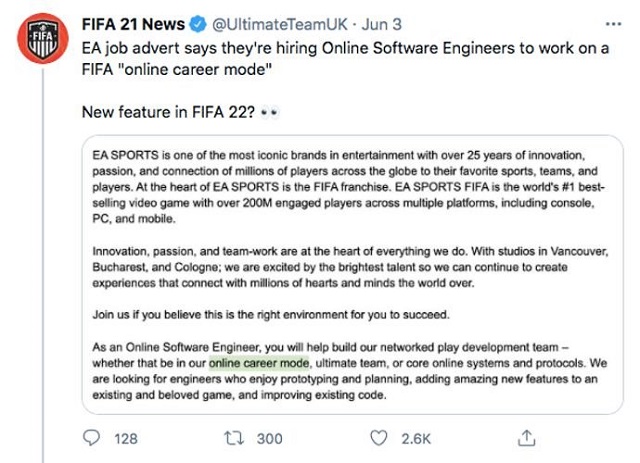 Will FIFA 22 have online career mode? Can you play FIFA career mode online? Online Career Mode could finally be coming to FIFA 22 after observant fans of the franchise spotted an Electronic Arts job listing which mentions the possibility of the much-wanted feature.
What is Online Career Mode in FIFA 22?
There is serious talk that an Online Career Mode could be coming to FIFA 22. We can only speculate on how an online Career Mode will work. Will it be a PvP style mode where various teams in the league are controlled by other FIFA players? This seems a bit of a stretch, and we think it could be a more social mode to allow you and your friends to play together. We also believe that there is a chance that the Online Career Mode is in the works for FIFA 23 or even a later game in the franchise. Either way, we can't wait to see what EA has up its sleeve.
A new EA job advert for an Online Software Engineer reveals EA is beefing up its internal team that works on the FIFA franchise. And within this job listing is the mention of an "online career mode," something that currently does not exist. That said, since FIFA fans noticed this detail, the job listing has been changed to remove "online career mode" from the text. Now, this could be because it's incorrect information, but more likely it's been removed because it's a leak. And of course, EA's silence over the leak suggests the latter.
Career Mode within FIFA 21 is purely an offline mode and has been for all of EA's previous EA Sports FIFA gaming titles, and fans of the mode have been calling for a big overhaul in the upcoming FIFA 22 game. EA did add a number of new features to Career Mode for FIFA 21 including Interactive Match Sim, a new Match Launcher, a revamped Growth System, Match Sharpness, Enhanced Opposition AI, Activity Management System, Team Schedule Planning and more.
There is no confirmed release date for FIFA 22 as of writing this article, nor who will be the global cover star. PSG & France forward Kylian Mbappe may retain his place for another year. Other contenders include Liverpool's Mo Salah, Borussia Dortmund's Erling Haaland and Manchester City's Phil Foden.
There is only a few months left since the release of FIFA 22, it is the best time to equip yourself with cheap
FIFA 22 Coins
at the reliable game store rvgm.com, hundreds of safe payment methods for you to choose, including PayPal, VISA, Credit Cards and more!