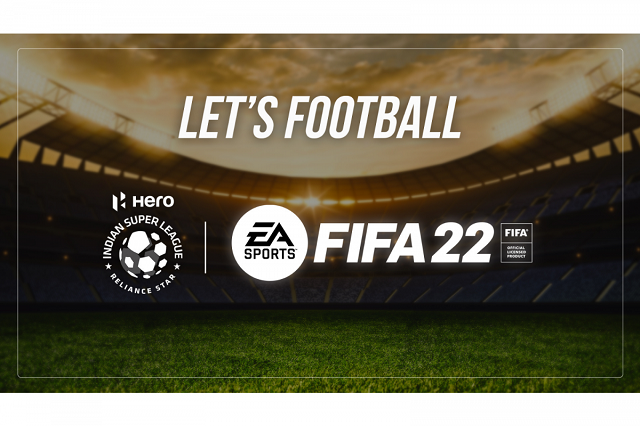 To bring new content to the latest series of FIFA, EA Sports have collaborated with the The Indian Super League (ISL) to bring the top football league of India to the gameplay!
Hero Indian Super League in its eighth season (2021-22) and all the eleven ISL participating clubs, with their kits and other associated marks will feature in the latest edition of the sports video game franchise. The induction to FIFA 22 comes after ISL's successful run on FIFA Mobile in 2019, an initiative carried as part of Football Sports Development Limited's license with EA SPORTS.
All 11 clubs of ISL, including their kits and other associated marks, will be a part of FIFA 22, which boasts more than 700 teams from over 30 leagues across the world.
UEFA Champions League, UEFA Europa League, English Premier League, Bundesliga, La Liga and Serie A are some of the top tournaments that will be offered on FIFA 22.
In 2019, the Indian Super League made its debut in the mobile version of the game. EA Sports have taken the decision to add the ISL into the console and PC editions after monitoring its success in the mobile version. The inclusion of the ISL in FIFA 22 will help the league make its presence felt globally.
This comes in as great news for the Indian esports fraternity, who will now be able to compete in the game with their national heroes. The FIFA 22 will include 11 Indian Super League clubs — Northeast United, Kerala Blasters, Mumbai City FC, Hyderabad FC, FC Goa, ATK Mohun Bagan, SC East Bengal, Chennaiyin FC, Odisha FC, Jamshedpur FC and Bengaluru FC.
"The FIFA gaming platform opens unique opportunities for a young league like ISL and its 11 clubs to cater to the fast-growing fan base globally. The digital ISL experience will be a big innovation for the league this season onwards," a spokesperson from the ISL was quoted in a report by the Financial Express.
As ISL now will be available on console and PC versions of the game, the young Indian gaming community and fans will be able to experience their homegrown football league on one of the major gaming platforms. Hence, fans will be able to engage more with the league, resulting in deeper affinity towards their clubs and players, ISL said in an official statement.
FIFA 22 is released on Friday, October 1 and Ultimate Team is getting a whole new batch of old-school players. To get these old-school players, just buy
cheap FIFA 22 Coins
with lowest price at rvgm.com and keep enough FUT Coins in your inventory!