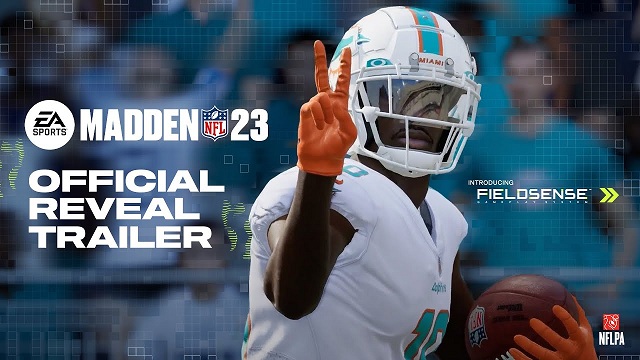 Since just a small bunch of players will be able to play the Madden 23 beta, we can now refer to the closed beta's release date, how to sign up for downloads, and gameplay issues. RVGM.com will continuously stay up with the latest with Madden 23 news and give you safe and cheap
Madden 23 coins
.
Release Date
and Details
Madden 23 will be released on August 19th, a entire year after the previous release. It's currently available for pre-order from your console store as well as the Origin, Steam, Epic Games Store or the EA app. If you pre-order the game now, you'll get a huge number of additional items that you can't get anyplace else.
Here's what we expect players will have to pay for each Madden 23 edition:
Standard Edition (PS4 and Xbox One) - $59.99
Standard Edition (PS5 and Xbox One X/S) - $69.99
【The above two standard editions pre-order this title on any platform or store, players can choose two elite players (one offensive player and one defensive player), All-Madden Gear and Madden Strategy Item.】
All Madden Editions (all consoles) - $99.99
【For $99.99, players will get pre-release content that gives players three days early access to the game and access to exclusive early challenges. With the purchase of the pre-release version, players will also receive all the bonuses of the Standard Edition plus 4,600 Madden Points and dual entitlements, meaning players can upgrade their PS4 or Xbox One version of the game to a newer generation of consoles at no extra cost .】
How to Sign up for Download
The first thing a player needs to do is have a code that is sent to the player via EA, and if the player hasn't received it yet, they'll have to wait for the public beta. If players purchase the All Madden Edition of the game, they will also have the opportunity to access it early.
Here are the details on how to sign up for the Madden 23 beta, if players have been given a code.
Download on PlayStation:
Use your existing Sony Entertainment Network account on PSN™.
Select the PlayStation®Store icon on the system home screen.
Select Redeem Code at the bottom of the menu in PlayStation®Store.
Enter the code and get ready to play.
To download on Xbox:
Go to the game under the store.
Choose to use code.
If prompted, log in.
Select or enter a 25 character code and get ready to play.
Game Issues
With players now experiencing the beta, EA has also posted a list of bugs that have popped up, some of which we'll discuss below.
These are what EA is currently doing in Madden 23:
Aerial collisions of snap points are not triggered frequently enough
HB Slip Screen does not work properly due to long RB delay
Aggressive catch mechanics do not respect player input in certain specific situations
Sometimes, Catch does not sync properly when throwing to Tight Ends on a flat course
Running backs would sometimes get stuck on the route and not play evasive or chip block animations
Man Coverage defenders often play fakes when covering Curl and Comeback routes
The effect of player ratings on skill-based passing is not final
These are all things EA will do in the future, and we'll keep you updated with additional subtleties on the Madden 23 beta. As a player, it is necessary to have enough
MUT 23 coins
to expand our team fabricating and improve the game experience.