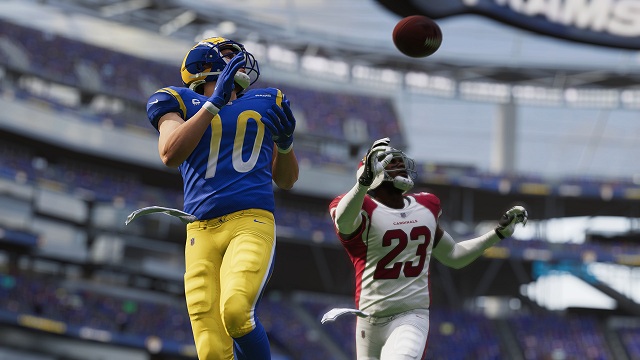 Thanks to the Early Access of Madden 23, player have access to experience this fantastic Madden Series game before the official release. In the latest version of Madden Series, there are a lot of new features in the Madden 23 Ultimate Team Mode, which make Madden 23 more attractive and interesting. You can read this article to know more about new features of MUT 23.
MUT 23 Coins
are essential in Madden 23 Ultimate Team mode, which can be used to improve the level of teams in Madden 23.
New Features of Madden 23 Ultimate Team
Field Pass
If you're familiar with Battle Passes in other games, such as Fortnite, Call of Duty, and Rocket League, then think of this as Madden's version of a Battle Pass. Passes are reward structures that allow you to earn items as you gain more XP and/or complete objectives. There will be 3 different types of Field Passes in Madden Ultimate Team 23, all of which are FREE.
Season Field Pass - Each season in Madden Ultimate Team will come with a new Field Pass, offering new rewards such as coins, XP, players, and packs. Five players will be available to earn in Season 1.
Competitive Field Pass - If you're a H2H player, then you're in luck. MUT 23 will include a Field Pass with player rewards for engaging with head-to-head game modes. A new featured player will be available every 2 weeks with this Field Pass. Solo Battles players will also find their rewards within this Pass.
Program Field Pass - Major programs in MUT 23 will come with their own unique Field Pass with additional rewards.
MUT Champions
The Weekend League is now titled MUT Champions, because now you can play it any day of the week. The mode will reset every Monday and allow players to compete in a maximum of 25 games per week. New champs entry tokens, included in the competitive Field Pass, will allow players to access MUT champions that week. You'll also receive rewards from MUT Champions after each game completes, rather than waiting until the end of the week.
New and improved Sets
Next up, players will also get to experience a completely revamped Sets function. Everybody knows that Sets are where you find some of the best content in Madden Ultimate Team. However, now EA has reduced unnecessary friction and the amount of button presses needed to complete a set in Madden 23. Plus, Sets will now be accessible from inside your Item Binder.
Another new Sets feature added to Madden 23 Ultimate Team includes the process for completing a set. Now, the game will automatically check your inventory for the lowest cost, unused or non-favorited items needed to complete any given Set. Not only that, but the game will also see the return of Account-Bound Items. Meaning that some Sets will automatically return the items that you use to complete them.
Solo Battles
Solo Battles will now reset daily, letting players play up to 28 games a week--more than twice what was available last year. The competitive Field Pass will also be the primary means of earning rewards for Solo Battles. The number of games in H2H Seasons has been lowered, to allow players to enter more playoffs, and thereby play in more Super Bowls. In MUT Draft, there is no longer a ranked mode and salary cap has been removed from Ultimate Team.
There are a lot of challenges and quest waiting for players to complete in MUT 23 Field Pass. You will get good rewards in turn. In order to build a good team, you need
Buy Madden 23 Coins
to get good players in right position, which improve your team capacity in matches.