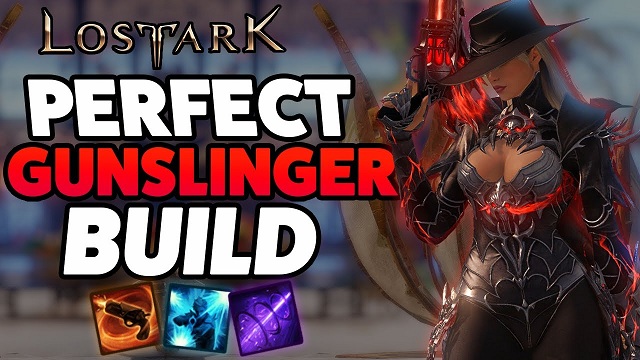 With the update of Lost Ark, many players are willing to choose a new class to play in the latest version. There are various kinds of classes for players in Lost Ark. The Gunslinger class is a ranged class which is popular in the game. Do you want to know how to build the best Gunslinger in Lost Ark? You can read this article and learn from the guidance. Players can get
Cheap Lost Ark Gold
to gather more good materials for crafting good gear for characters in the game.
Why Do You Choose the Gunslinger Class in Lost Ark?
Although she's similar to Deadeye, she doesn't share the same class engravings, and the playstyle is different as well. One of the main contents in Lost Ark is raids, and the Gunslingers' skillsets stand out in the raids. She excels in positioning, survival, and damage, so it's easier to to DPS. Skilled Gunslingers can deal massive damage very steadily in all content.
Another advantage is that she has more skill slots than the other classes. There are mobility skills that can be used without spending any skill points on the dual pistol slot, so that's another advantage. The Rifle stance's long range allows the Gunslinger to deal damage in situations where other damage dealers have to back off.
How to Build the Best Gunslinger in Lost Ark
Best Skill for Gunslinger in Lost Ark
Many of the Gunslinger's normal skills involve making the most of the mini-arsenal she keeps on her person, with a number of options available to improve her marksmanship. Her top-tier movement speed also comes in for a few improvements over time, and there's the option to supplement her already-impressive loadout with the addition of skill-based grenades. The Gunslinger's skills are all colour-coded for ease of reference: orange for pistol skills, blue for shotgun skills, and purple for rifle skills.
By the time you reach Level 50 you should have accumulated about 250 skill points, which is enough to put together a balanced normal skill build to take your character into the endgame.
Best Engravings for Gunslinger in Lost Ark
Once your character level reaches 50, you can apply various Engravings to them. These are part of Lost Ark's endgame content that allows you to use various buffs and boos to customise your character. The gunslinger has two class bonus engravings available. The Engravings for the Gunslinger class are Peacemaker and Time to Hunt. Both are solid choices for either PvE or PvP Gunslinger builds, so it all comes down to which playstyle sounds more appealing to you.
Peacemaker: These engravings can increase attack speed in handgun stance by 16% and increase crit rate of the shotgun by 25% Peacemaker will give damage of 10% when rifles are in action. Additionally, you can get an additional damage point of 30% with a rifle stance.
You want to use your Pistols for mobility and debuffs. For pure damage, you need to use the Shotgun and Rifle, depending on how close you are to the enemy. Remember that you can use your Space bar to cancel the long animation skills, but only do this if you see that the enemy is about to deal heavy damage.
Lastly, this build has too many skills, and you don't have to use all of them for maximum damage. So keep in mind what each ability does and what it is meant for. Also, keep doing the highest damage rotation and, depending on the fight, switch your weapons to reposition or deal damage.
Players can follow the guidance to build the best Gunslinger class in Lost Ark. You need level up your characters quickly in order to enter the end-game contents. In addition, you can
Buy Lost Ark Gold
to get good gears for characters in order to improve their capacities in Lost Ark.