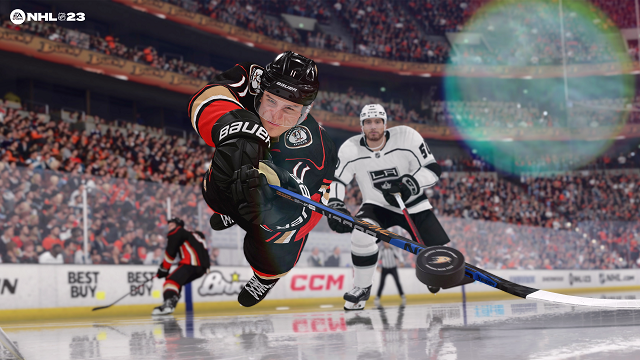 Hockey fans can experience the hockey matches with other players in the latest NHL series. They can build the hockey ultimate team and compete against other opponents in the fierce ultimate team mode. While, finding good players for the team is the key to success. Centers play an important role in the whole Hockey team. Do you want to know best centers in NHL 23? Are you going to get them for your team in the game? We are going to list several best centers in HUT 23. Players can get
HUT 23 Coins
to purchase their desired players from the market and build the powerful team in the game.
Best Centers for Hockey Ultimate Team in HUT 23
Connor McDavid 95 OVR
Connor McDavid, who many consider to be the best player in hockey, reigns supreme as the only player in NHL 23 rated 95 OVR. Furthermore, he's the only player with a 98 rating in any attribute, and to top it off, he has five 98 rated attributes: Hand-Eye, Deking, Puck Control, Off. Awareness, and Agility. Basically, he's lethal at being the main cog in an offense – he has 97 Acceleration and Speed, too – but not just in setting up his teammates and maintaining possession. The top playmakers also has 97 Writs Shot Accuracy, 94 Slap Shot Accuracy, 91 Wrist Shot Power, and 90 Slap Shot Power.
Auston Matthews 94 OVR
Auston Matthews is currently the best goal scorer on the planet. The 25-year-old is coming off of an iconic season in which he registered 60 goals in just 71 games, helping prove that the torch has indeed been passed from Ovechkin to himself.
Not only did Matthews top both the 50 and 60-goal mark for the first time in his career in 2021-22, but he also established a new career high in points with 106. Some will continue to doubt him until the Toronto Maple Leafs are able to exercise their playoff demons, but the majority have come to acknowledge him as one of the best players in the world.
Nathan MacKinnon 94 OVR
Finally, MacKinnon is a Stanley Cup champion, as the 27-year-old helped lead the Avalanche to the Stanley Cup. Despite only skating in 65 games, MacKinnon put up 88 points for Colorado. He has the hands, he has the speed, he has the shot and he most definitely has the passion. MacKinnon is the complete package and one of the most exciting players to watch.
Aleksander Barkov 92 OVR
It's been a couple of seasons now that Barkov has finally got the recognition he deserves. The 2021 Selke Trophy winner posted a career-high 39 goals last season, helping the Panthers to the best record in the regular season. The 27-year-old Finn is a premier two-way center that has been a big reason for Florida's emergence as a contender.
Evgeni Malkin 90 OVR
The player lovingly referred to as "Geno" by Pittsburgh Penguins fans would be a top-line center on almost any team in the NHL. Instead, he's made his name as a second-line center on the Penguins only because he's playing behind one of the best NHL players of all time.
Malkin may be getting on in age (he's 36 years old), but that hasn't stopped him from putting up a point-per-game in all but two of his sixteen NHL seasons. The big Russian is as reliable as any player around when it comes to putting up offensive numbers, and would be an elite addition to any NHL 23 team for the remainder of his career.
These centers are really good players in HUT 23, you can select one of them for your team in this game. While, some players are not cheap, you have to pay a lot of
NHL 23 Coins
to get them from the Transfer Market. They are worthwhile for building the powerful team in NHL 23. Please select the suitable one for your team.