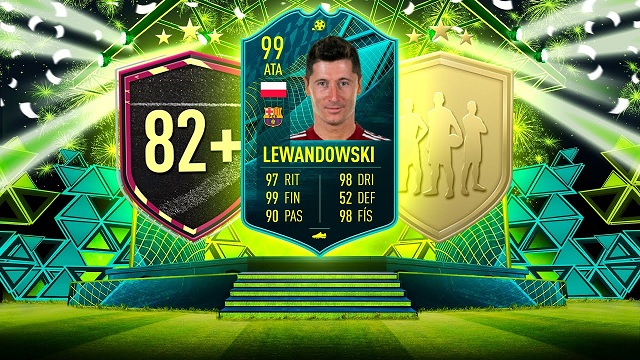 Robert Lewandowski becomes the latest FIFA 22 Player Moments card recipient. His overall rating is 99. Players Moments cards celebrate a special moment form the featured player. Recently, Lewandowski moves to FC Barcelona. So, players have access to complete a themed squad-building challenge to get this card. Players can also use
FUT 22 Coins
to select the suitable player cards s for building the team in FUT 22.
How to Complete Lewandowski SBC Player Moments in FIFA 22
Players have to complete three parts to unlock this card
Tactical Emulation:
Minimum 1 player from Barcelona
Minimum Team Rating: 86
Minimum Team Chemistry: 60
Reward: 1 Prime Mixed Players Pack
Top Form:
Minimum 1 player from Team of the Week or Team of the Season
Minimum Team Rating: 87
Minimum Team Chemistry: 55
Reward: 1 Small Rare Mixed Players Pack
La Liga:
Minimum 1 player from La Liga Santander
Minimum Team Rating: 88
Minimum Team Chemistry: 50
Reward: 1 Rare Mixed Players Pack
Lewandowski already has other fivespecial cards ranging from 93 to 98-rated, so this Player Moments is the best one so far. Compared to his 92-rated original gold version, his Pace (+19), Physical (+16), Dribbling (+12), Passing (+11), Defending (+8), and Shooting (+7) received general upgrades.
You can further boost Lewandowski's Passing (+5), Pace (+2), and Dribbling (+1) by applying the engine chemistry style. This will maximize several of his stats, such as his Acceleration, Sprint Speed, Short Passing, Curve, and Balance.
How to Choose the Best Formation For FC Barcelona
4-3-3 Holding Formation For FC Barcelona
The 4-3-3 holding formation plays to Barça's current strengths, namely pace and fast transitional play. The side's front three of Memphis Depay, Pierre-Emerick Aubameyang, and Ousmane Dembélé are easily one of the paciest attacking outfits in the entire game, meaning that there's an absolute necessity to exploit width and space as soon as the chance presents itself.
The 4-3-3 Attack formation is also a viable option, but Holding makes far more sense as it allows de Jong and Pedri to play as classic CMs while Busquets nails down his preferred CDM role.
For different formations, more experimental managers might consider putting de Jong at CB alongside Piqué and allowing Pedri to come into the midfield, resulting in a net numerical gain of +1 (87+82 instead of 87+81) and allowing players to accommodate the young starlet of Barça's team. Be warned that de Jong's strength, jumping, and aggression are far behind Araujo's, so the decision shouldn't be made lightly.
Information About FIFA 22 Pre-Season
Pre-Season is likely the last promotion of FIFA 22, and theoretically the first promotion of FIFA 23. Players can earn special rewards for the upcoming Ultimate Team cycle while still earning some of the best players in the game through special Pre-Season batches in packs. Additionally, there are newly transferred special player items available like Showdown Darwin Nunez and Christian Eriksen.
FIFA 22 Pre-Season Rewards
The first week of the pre-season event is focused on getting you started in FUT 23. You can complete time-limited SBCs up to three times to earn the following rewards:
5x Gold Rare Player Contracts
Two Rare Gold Player Pack
You should also take a look at the Live FUT Friendlies – there you will find a couple of new objectives tied to the Kick Start FUT 23. You can get three rare gold players each from Serie A, Ligue 1, Bundesliga, LaLiga Santander and Premier League to build your first squad in FIFA 23.
If you want to collect more featured players moments cards in FIFA 22, you need complete more relevant SBCs and
Buy FIFA 22 Coins
to purchase the suitable players to build the right team for the requirements of SBCs.