WoW Classic WotLK Engineering Profession Guide: How to Level Up Engineering Fast in WotLK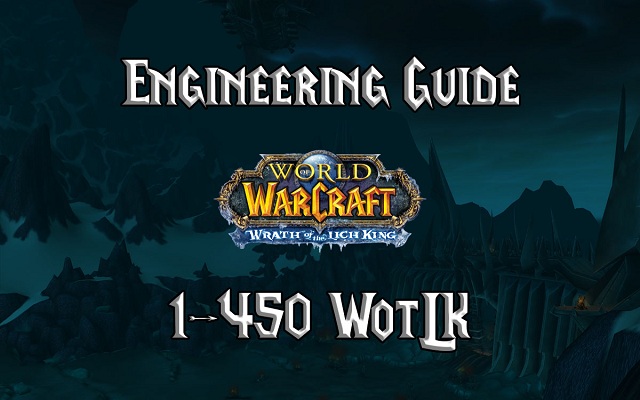 When it comes to professions in WoW Classic, many players are interested in playing Engineering in the game. Engineering is one of the most popular professions in WoW Classic, it can not only provide gear but can also give players some small unique items in the process of leveling. While, it is not easy for players to level up Engineering in this expansion. If you are wondering the guidance, you can read this article to learn from it. Players can buy
WotLK Classic Gold
to get more good gear for characters in order to keep progress in the quests.

Benefits of Engineering Profession in WotLK Classic
Once WotLK Classic releases, there will be tons of items and other features players can benefit from.
At first, there are lots of gear that players can benefit from, especially at the start of the expansion. These include weapons such as the Armor Plated Combat Shotgun or the Nesingwary 4000 and Epic Helmet pieces such as the Armored Titanium Goggles, Greensight Gogs, Visage Liquification Goggles, Weakness Spectralizers, and more.
On top of the gear, players can also create a number of fun or useful items as mentioned before. These include mounts such as the Mechano-hog for Horde and the Mekgineer's Chopper for Alliance, projectiles for the aforementioned weapons such as Saronite Razorheads, Mammoth Cutters, or the ever so beneficial mobile mailbox, MOLL-E, and mobile repair, Jeeves.
How to Level Up Engineering Fast in WoW Classic WotLK
Like all professions, leveling Engineering is entirely doable while you quest and level your character normally. If you choose to take up Mining, ore nodes will appear in level appropriate areas, and the damage caused by explosives will be relatively proportional to mobs' health.
Ultimately, however, this is a power leveling guide, and it will cover the fastest, most cost-effective way to reach 450. If you are training with access to Dalaran, you should find Timofey Oshenko in the Magus Commerce Exchange. Along with other Northrend trainers, he'll be able to teach you all Vanilla and engineering recipes. His proximity to the AH is also invaluable for getting any additional materials you may need or selling what you've created.
But if you go engineering, you'll feel like an inspector gadget in no time. First off, the runic Manaq Injector and Runic Healing injector grant an increased effect for engineers. If you are playing a mana-hungry class using these runic Mana Injectors, an engineer can be a great reason to go engineering. There are also fun things like the end Amplification Dish, a tinker to your helm. This allows you to engage in a mental battle with your enemies, attempting to mind control them. This can be pretty nifty if you are standing on a high ledge and decide.
When you cross through the Dark Portal, Master Engineering Trainers will be in the first area your faction quests in. For Alliance that means going to Honor Hold and finding Lebowski. Zebig at Thrallmar will do the same for the Horde. Unlike most other professions in TBC, the neutral trainer for Engineering is in Netherstorm, not Shattrath. If you are questing and leveling concurrently, Xyrol in Area 52 will be your next stop. As you finish up the Master tier, all players will need to visit Shattrath.
If players want to level up Engineering quickly in WotLK expansion, you need find more quests and collect more rare materials for crafting in the game. You can
Buy WoW Classic WotLK Gold
to purchase more rare materials without searching in the process of questing. You can use them to craft high level items for leveling.