What pets are going to be in the Ocean Egg and How to get the Ocean Egg in Roblox Adopt Me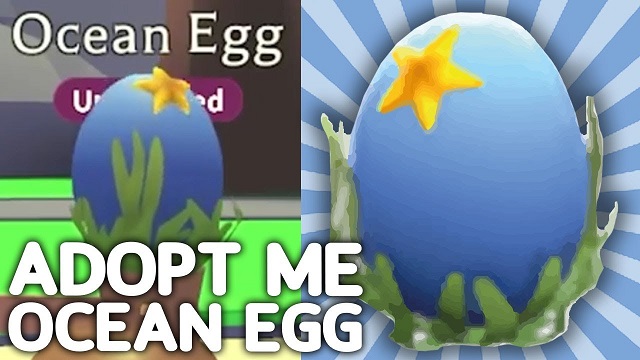 How do you get the ocean egg in Adopt Me? Is there going to be ocean eggs in Adopt Me 2021? How long will the ocean eggs last in Adopt Me? What is in the ocean egg in Adopt Me? If you want to find answers concerning these questions, then you are at the right place!
What is the Ocean Egg?
The Ocean Egg is a limited legendary egg in Adopt Me!. It was released on April 16, 2021, at 7:30 AM PT, replacing the Fossil Egg. It costs Bucks 750 and is still available for purchase from the Gumball Machine in the Nursery. The Ocean Egg can also be obtainable through trading. The Ocean Egg also has another name: Sea Egg, which is most commonly used by players.
Ocean Eggs Pet List
Stingray (Common)
Crab (Uncommon)
Dolphin (Uncommon)
Narwhal (Rare)
Seahorse (Rare)
Clownfish (Ultra-Rare)
Octopus (Legendary)
Shark (Legendary)
Here are all of the pet rarity chances for the Ocean Egg in Roblox Adopt Me:
Common 20%
Uncommon 35%
Rare 30%
Ultra-Rare 10%
Legendary 5%
The Ocean Egg is a dark blue colored egg. It is covered with green seaweed coming from its bottom, and there is a small yellow starfish on the tip of the egg. It is the third limited egg that doesn't resemble any of the animals it could become.
How to get the Ocean Egg in Adopt Me
To get the Ocean Egg in Roblox Adopt Me, you will need to go to the Nursery, which is located at the center of Adoption Island. Within the Nursery you will find the Ocean Eggs in the large gumball machine. The Ocean Eggs costs 750 Bucks and can be purchased as many times as you want, so long as you have enough Bucks.
If you do not have enough Bucks, you can come to rvgm.com for help. Here, you can find cheapest Roblox
Adopt Me Bucks
for sale, cheapest price, instant delivery! Purchase our special offer and get you wanted Ocean Egg now!