Many newbies are wondering how they can increase population in Township. To increase your population, you have to build Community Buildings to increase the "allowed" population and then you have to build houses
. You can check the size of your population by looking at the number in at the top of the base builder screen. The first number is your actual population while the second number is how many people you are allowed to have by building houses. For example, if it looks like 25/90. This means that your base currently has a population of 25 people, and it has a population cap of 90.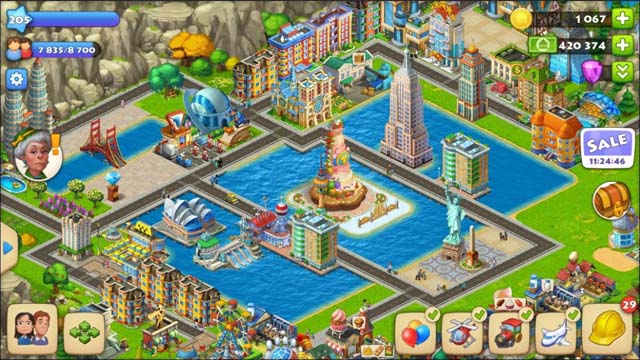 To be more specific, each Community Building allows you a certain number of people for your town, whlie each house gives you a certain number of people in your town.
In real-life terms...
You take a huge field, name it Fieldsville, and build/open a small grocery store. Fieldsville can now support 50 people. You build a small hospital. Fieldsville can now support 100 people.
No one actually lives in Fieldsville.
So now, you build four cottages capable of supporting 20 people each. These people move in, and boom! Fieldsvilles population is now 80/100 people. You have enough groceries/healthcare to support 100 people, so that is the maximum amount of people that can live in Fieldsville, but your housing only has space for 80, so 80 people have moved in.
You decide you want to build an apartment block, capable of housing another 100 people. You can't do this yet because with all those extra people, crime rates will rise, especially if there's no education system. So you build a police station for another 80 people, and a school for another 100.
There is now necessities/amenities for Fieldsville to support 280 people.
Now you can build two apartment blocks, each capable of housing 100 people. These people move in to your newly built housing, and your population is now 280/280. 280 people living in the housing built for 280 people, and shopping/learning/receiving police support and healthcare from your "community" buildings.
Now you have all these people in your town, you figure you need some way of bringing in revenue, and employing your citizens not working at the hospital/etc.
So, you build a factory, decide you're going into mass production of sugar, and employ some farmers and some factory workers... and so it goes.
You can build Community Buildings and house building by spending the materials and supplies collected while running. You can also buy materials and supplies with
Cheap Township Cash
at
Rvgm.com
, a reliable and cheap online in-game currency store. To construct new buildings, tap the green tab at the top left of the Base Builder screen. This will show a list of buildings, along with how much they cost and their abilities.
Tap the building you wish to construct, then drag and drop it to place it. Once a building has been places, you cannot undo this action. There will be some buildings that you cannot construct until you meet certain requirements. If your base has run out of floorspace, you can expand Abel's borders by tapping the green arrows along the back walls. You will need to spend Supplies and Materials to do so.