If you missed a Shiny Meltan the first time around, here comes your chance.
Niantic is holding an encore Meltan event, offering Trainers another chance to catch a rare Mythical Hex Nut Pokemon
. The event will be available for a limited time. So, size the chance. In addition, here
Rvgm.com
provide this guide and
Cheap Pokemon Go Coins
to help you catch a shiny Meltan.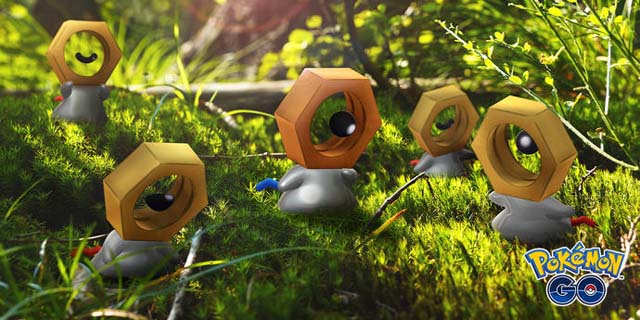 Pokemon Go Meltan Event Time Schedule
The Pokémon Go Meltan event runs from Wednesday, April 24th until Sunday, May 5th, starting and ending at the following times:
UK: 9pm (BST)
Europe: 10pm (CEST)
East Coast US: 4pm (EDT)
West Coast US: 1pm (PDT)
How To Catch A Meltan?
Unlike other Mythical Pokemon, which can typically be found through either EX Raids or Special Research questlines, Meltan will only appear in Pokemon Go if you've used an item called the Mystery Box. To obtain Box, you have to Connect your Pokémon Go account to a Nintendo Switch copy of Pokémon Let's Go Pikachu or Eevee and transfer a Pokémon from Pokémon Go to Pokémon Let's Go Pikachu or Eevee.
After you've received a Mystery Box, open it and Meltan will begin to spawn in the wild for the next 30 minutes. After the 30 minutes have elapsed, the Mystery Box will close. So open as more Mystery Box as you can, try to catch one Meltan. If you are lucky, you may even encounter a Shiny Meltan. Catch as many Meltan as you can, and don't forget to use Pinap Berries on every one, as you're going to need that Candy! Moreover, during the event duration, Niantic Niantic has greatly reduced orignal cooldown timer from seven days to three days, so you'll have better chance to catch a Meltan.
How to Get A Melmetal?
To evolve a Meltan to a Melmetal, you're gonna need a whopping 400 Candy, so you're going to need to repeat the process quite a few times! You can accelerate the process in a few ways. Rare Candies will work toward powering up any Pokemon, even Meltan, and feeding Pinap Berries to one during the capture phase will increase the amount of Candy you receive if you successfully catch it.
Once you do have enough Meltan Candy, it's exactly the same as usual, just select evolve for the Meltan you want to evolve, and Melmetal's yours!
New Field Research Tasks for May and June
In addition, a new set of Field Research tasks for the upcoming May and June will soon be available from May 1through the end of June,with Suicune, Entei, Raikou, Regice, Registeel, and Regirock leaving the pool. Latios and Latias will join Ho-Oh and Lugia on May 1 at 4 p.m. ET until the end of June.
This means that once players complete seven days' worth of Field Research, they'll be able to encounter a Ho-Oh, Lugia, Latios, or Latias. There is no confirmation of whether the latter two can be caught Shiny (the way Ho-Oh and Lugia can be), but since their Shiny forms have been released, it's likely they're fair game.