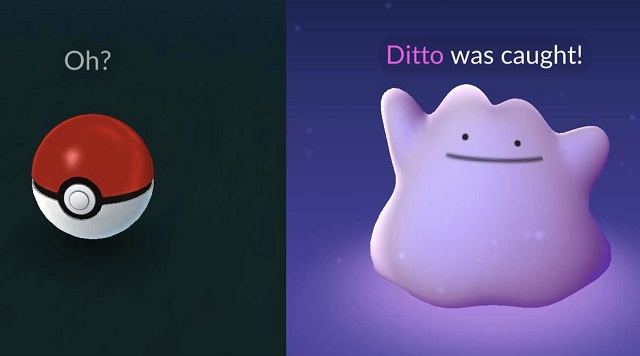 How do you get Ditto in Pokemon 2021? Which Pokemon can be Ditto? This article is going to talk about the ways and tips to get Ditto in Pokemon and the what the Ditto in Pokemon is.
The current Ditto disguises for Pokemon Go in August 2021 are as follows:
·Foongus
·Purrloin
·Numel
·Gulpin
·Whismur
·Remoraid
·Spinarak
·Hoppip
·Hoothoot
There's no guarantee that you will catch the elusive purple goo when you confront any of the above creatures, but these are who it is mimicking right now (via Leekduck).
What's Ditto in Pokémon Go?
Ditto, also known as the Transform Pokémon, is a little, purple blob of a Pokémon that was part of the original 151 Pokémon of Gen I. Although it may not look like much, Ditto is capable of mimicking the appearance and powers of any other Pokémon it sees. In the core games, Ditto is far more useful because it can breed with any Pokémon capable of breeding. While that isn't super useful in Pokémon Go, you'll still want it to complete your Pokédex, as well as for certain Special Research. In fact, you cannot catch Mew without first catching Ditto.
How to find Ditto?
Ditto's idea is that it is a Pokémon that uses disguise. It enjoys shapeshifting and hiding, and it does so in the wild. In essence, there is only one way to catch a Ditto – catch the Pokémon that Ditto is concealing in and wait for Ditto to show up!
Catching Ditto tips for Pokemon Go
Though the table above will help you when out in the overworld, there are some steps that Trainers can follow to make the likelihood of catching a Ditto that much easier:
·Using Incense can be used to increase spawn rates. While this is active, travel around and catch every monster that's on the list above. We recommend waiting for a special event that increases Incense from 60 minutes to three hours to get the maximum effect.
·Even if you are only casually looking at the overworld while at home, make sure to use the Nearby tracker feature which lists Pokemon that are close to you. If any of the above 'mon appear, click them and head to their location on the map.
·Once a day, throw down a Lure at PokeStops. Look for any of the monsters on the list and catch every single one of them to increase your chances of catching Ditto.
·Join a local Pokemon Go group on Facebook or Reddit. Players and friends will often share when a Ditto has been spotted, and other Trainers can go to that location for a limited time and find it.
Dittos are not unique to an individual player. If you or a friend finds a Ditto disguises as a Pokemon, the other player can also catch it if they can get to it in time.
Hope this guide above can help you get a Ditto successfully, and if you are lacking of
Pokemon Go Coins
, then we rvgm.com is the best place for you!