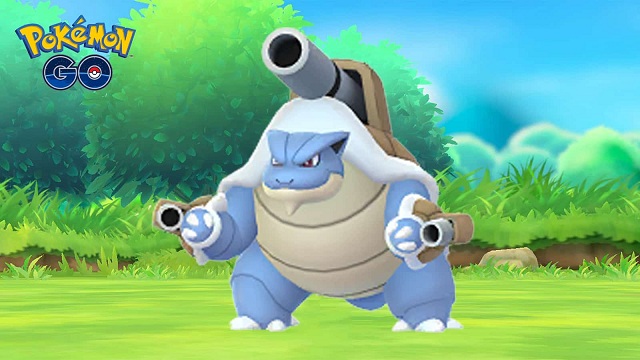 Pokemon Go Mega Blastoise Raid comes in April, 2023, players have access to obtain the Mega Blastoise in the Raid. Some players are eager to know how to get this fantastic pokemon in the game. The Mega Blastoise is an attractive pokemon for many players. So, if you also interested in obtaining this Mega Blastoise, you can read this article for guidance. Players can get
Cheap Pokemon Go Coins
to equip your Pokemon with good gear and prepare for the coming raids.
The Mega Blastoise in Pokemon Go
The final evolution of the Water type Kanto starter, Mega Blastoise was one of the first Mega Evolved Pokémon to be introduced to Pokémon Go. Although Mega Blastoise doesn't have the sheer DPS that some Mega Evolved Pokémon have, it's extremely bulky and so will last a long time on the field. It's an excellent choice for boosting other Water types, so players should stock up on its Mega Energy while it's currently in raids.
How to Counter the Mega Blastoise in Pokemon Go

As a Water-type opponent in Pokemon GO, Mega Blastoise is weak to Electric and Grass-type moves, which trainers will want to prioritize using.
Furthermore, if these moves are used by Electric and Grass-type Pokemon, respectively, they'll receive the Same Type Attack Bonus (STAB) by matching attack types to the user. Players are highly advised to pursue this bonus, as they will want to deal as much damage as possible to take Mega Blastoise down as quickly as possible.
Even though Mega Blastoise only has two defined weaknesses in Pokemon GO, trainers can exploit them, thanks to the large number of Grass and Electric-type moves/creatures available in the mobile title.
Best Pokémon & Movesets To Counter Mega Blastoise
Mega Venusaur: Vine Whip and Frenzy Plant
Mega Manectric: Thunder Fang and Wild Charge
Zekrom: Charge Beam and Wild Charge
Zapdos: Thunder Shock and Thunderbolt
Roserade: Razor Leaf and Grass Knot
Tangrowth: Vine Whip and Power Whip
Zarude: Vine Whip and Power Whip
Electivire: Thunder Shock and Wild Charge
Magnezone: Spark and Wild Charge
Raikou: Volt Switch and Wild Charge
How to Obtain the Mega Blastoise in Pokemon Go
Luckily, it won't be extremely difficult to defeat Mega Blastoise and acquire its Mega Energy, as Mega Raids aren't the most challenging tier of Raid in the game. Whether you meet up with people in-person, or acquire the help of others remotely, it is best to go into this Raid with a group of three to five players.
This Mega Raid will be even easier to complete if you make sure that you're grouping up with high-leveled Trainers, generally possessing some of the most powerful Pokemon in the game. That being said, if this is not possible, it's recommended that you increase the size of your group with a few extra players.
When Mega Blastoise is defeated, players will receive Mega Energy and the chance to catch a Blastoise. This Pokemon may also appear as Shiny after the Mega raid boss in Pokemon GO is defeated. The number of attempts players will have to catch Blastoise depends on how quickly the raid boss was defeated, how much damage was dealt, and if trainers are on the same team. Defeating Mega Blastoise can be difficult, but it's the most reliable way to earn Mega Energy for Blastoise in Pokemon GO.
If players want to obtain the Mega Blastoise in Pokemon Go, you have to make full preparation for the boos battle. For instance, suitable Pokemon and best teammates. In addition, you can
Buy Pokemon Go Coins
to upgrade your Pokemon quickly for raids battle.