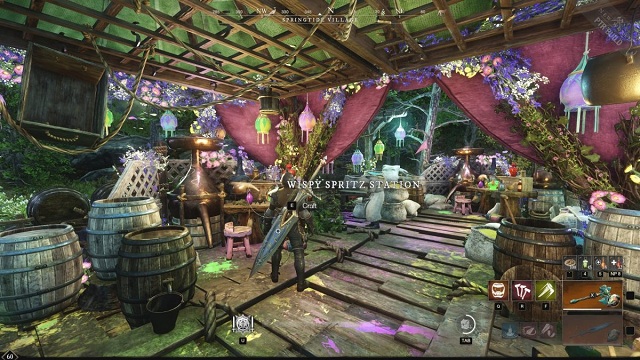 New World new Spring event 2023 is coming for players in the end of March, 2023. There will be new contents and quests in this new Springtide Bloom event. Many players want to know more information about the new Springtide Bloom Event 2023 in New World. You can read this article and learn more information about it. Players can get
Cheap New World Coins
to upgrade their weapon levels quickly and explore more challenging quests in the game.
The Springtide Bloom Event 2023 in New World
This New World Springtide Bloom Festival revolves around the windmill. All need to do is get something from it each day and you can go to every town. There are some different rewards that might pop up. Like any other event, you'll get your diamond gypsum. But we now have some Wispy Spritz in the New World Spring event 2023. This is going to be the only important thing to do anything in the Springtide Bloom event.
Springtide Bloom Locations
There are four Springtide Bloom Locations around Aeternum! They are Monarchs Bluff, Everfall, Brightwood, and Weaver's Fen. For the exact locations of each, check out our interactive map of Aeternum! Each location of the Springtide Bloom event has the following features:
Event specific store
Token trade in location
Lore pages to collect
Wispy Spritz crafting tables
These Wispy Blooms can be found almost anywhere on the globe; they are simple to locate because they stand out and are disproportionately big. If you can get past the hostile Wispy Wasps protecting them, gathering them should be simple. However, you only need to stay out of their way until you can place Wispy Spritz on the areas encircling the Wisplybloom to show them that you're not totally invincible. There will be light coming from the earth, so you'll be able to see where these need to be placed.
Once you're in a field 3 wasps will spawn. They will chase you down and deal damage to you so be careful. If you attack the wasp you will only deal 1 damage to it, and will not be able to kill them. In order to kill the wasps you will need to place down a wispy spritz in one of the glowing white circles. Then, lure the wasps there. The spritz will explode damaging the wasps. This will not deal damage to you. You will need to do this roughly 3 times in order to fully exterminate the wasps.
Once you taken out the wasps you can then collect your rewards. You will sometimes be rewarded with wispy wasp goo when you kill the wasps. This will drop as a loot bag so make sure you're checking. After they are dead you are also free to take the flower in the middle of the field. Harvesting the flower will reward you with some wispybloom petals. Both the goo and petals can be exchanged for tokens.
If players are interested in the coming Springtide Bloom Event, you can read this guidance and prepare for completing quests in the game. And you can also
Buy New World Gold
to purchase your desirable items for characters in the New World Trade Market.