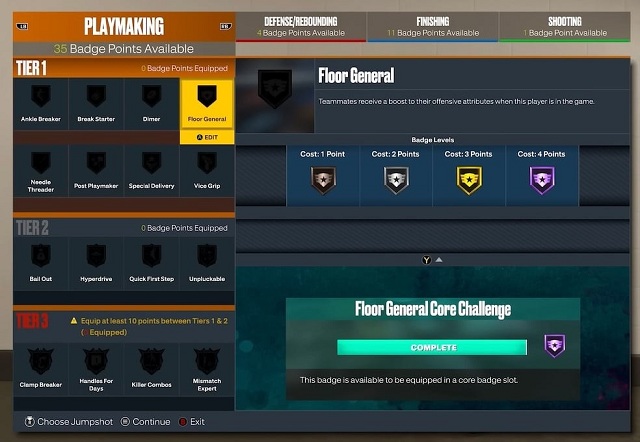 Many players are willing to play MyCareer mode in NBA 2K23, because they can build their unique players in the game. While, in order to become good player in NBA 2K23, you should know the importance of badges and learn how to select the suitable badges for your player. In this guidance, we will instruct you to choose the Playmaking Badges for your player in NBA 2K23. Players can use
Cheap NBA 2K23 VC
to level up badges and purchase necessary equipment in NBA 2K23 MyCareer Mode.
How to Choose Playmaking Badges in NBA 2K23 MyCareer Mode
Dimer Badge
Despite the fact that playmaking isn't restricted to the point guard position, those players are always looked upon to command the offense and find open teammates. While some point guards might be looking to score first, the majority of these players are actively trying to get other teammates involved and rack up assists.
The Dimer badge is crucial for any playmaker whose main focus is finding opportunities for their teammates. Having this badge will boost the shot percentage for your teammates on jump shots after they catch a pass. Being a playmaker is all about setting up your teammates on offense, and boosting their jump shots with Dimer makes it the best Playmaking badge to have in the game.
Floor General Badge
Having the Floor General Badge will make the attacking attributes of your teammates go up, which will automatically make offensive plays a lot easier for you. Your teammates will make better offensive passes, clinical shots, and great runs between open spaces. The Floor General will make the team unstoppable if it already has some amazing offensive players on the court.
Handles For Days Badge
Handles For Days is the most important in all the dribbling-related badges. It enhances your dribbling skill beyond your Ball Handling attribute. As playmakers need to avoid turnovers, Handles For Days and a high Ball Handling attribute will make it very difficult to strip you of the ball.
Specifically, the badge drains less stamina when performing dribble moves, allowing for more and longer chains. When paired with the next badge, you can easily create shots for yourself. Further, if a help defender breaks, you can make the easy pass to the open man for what should be an easy score.
Quick First Step Badge
When driving out of a triple threat or after a size-up, ball handlers have access to quicker, and more effective, launches. Quick First Step is valuable for dribblers looking to drive right by opponents out of the triple threat position. The ability to drive directly past a defender is one of the most important factors of playmaking, and this badge helps rev up speed with ease.
Needle Threader Badge
When the distance when doing the passes is big, Needle Threader will help make sure the ball reaches the player. The big danger is breaking the defense when doing these long pushes and this badge will help in that. Needle Threader can be best used for Playmaking. Using this badge will make sure the ball will not get recovered by the defenses or get tipped.
If you are going to build the point guard or shooting guard player in NBA 2K23, you can consider all listed badges and select them according to your build. And in order to level up these badges quickly, you can
Buy NBA 2K23 VC
to upgrade them quickly and improve your players' stats fast at the same time.