Diablo 2 Resurrected Terror Zones: How to Use Terror Zones to Level Up Fast in D2R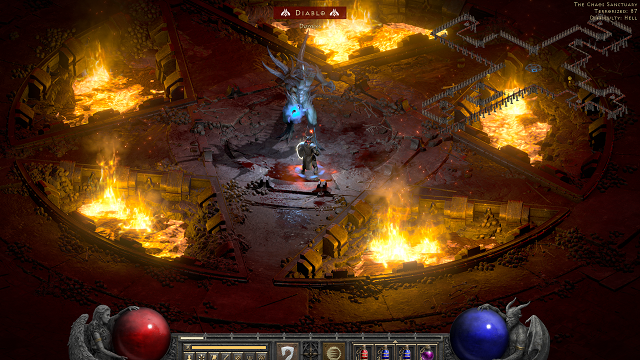 When players play Diablo 2 Resurrected, they are eager to level up their characters quickly in the game. Because they can have access to experience more end-game contents if their characters reaches some specific levels. Now, there are something new introduced into the world of D2R, called Terror Zones. Players can use this specific areas to level up their characters quickly in the game. Do you want to know more information about Terror Zones? Please read this article carefully and learn something new. Players can use
D2R Gold
to gather good materials and craft good items or gear for characters in the game.
What are Terror Zones in D2R?
When a zone comes under demonic assault and becomes a Terror Zone, the creatures attacking that zone will become more difficult based on the level of the character who started the game. If you're level 22 and you start up a Terror Zone-enabled multiplayer session, the monsters will scale based on your level. If you leave the game and the highest level character is 23, the game will readjust to match that character's level.
Only specific zones in each Act can be invaded by the Burning Hells and become Terror Zones, and in order to make use of those zones, you need to be able to reach them. So if your character doesn't have access to a specific Act yet, then you won't be able to visit Terror Zones available there, even if you have Terror Zones enabled.
How Terror Zones Work in D2R
Players can start a Terror Zone-enabled game where every hour higher level monsters will appear in specific zones. These monsters are at least two levels higher than the player's current level or their original level, up to a maximum per difficulty.
Loot and experience gained by the player are based on the new level while players gain additional experience points based on this new level. In addition, terrorized monsters will also grant additional experience points.
How to Farm Terror Zones in D2R
It is a good idea for players to avoid farming bad Terror Zone locations for your character. For example, let's say you were playing as a fire Druid in an area like the Sewers and act respawns, this is a very poor location, if you don't have teleport, you can't reposition and it's harder to find boss backs, you're always encountering rivers that you need to gap across with either a teleport staff or just run around. It can be very brutal as a character that doesn't have teleport.
You don't have to waste one hour on farming this specific Terror Zones. The existing level 85 areas in the game are still really good locations to Magic Find like. There's nothing wrong with spending an hour arming Stony tombs where every item can drop versus farming an hour in sewers which is not really the best location, especially if you don't have a Teleport. So again don't be afraid to skip out on some Terror Zones, you're not always obligated to farm them and actually farming some existing level 85 areas for an hour might be a better use of your time versus farming a very poor Terror Zone.
As you have learned the importance of Terror Zones in D2R, you can try to find the suitable terror zones for your characters and earn more XP for leveling or farm more legendary items. Meanwhile, if you are lack of enough good weapons or gear for your characters, you can
Buy Diablo 2 Resurrected Gold
to purchase them from the game-shop, which will help you pull through difficult terror zones and get good items drop in the end.