FIFA 22 Best Formation For Ultimate Team: How to Make the Best Formations in FUT22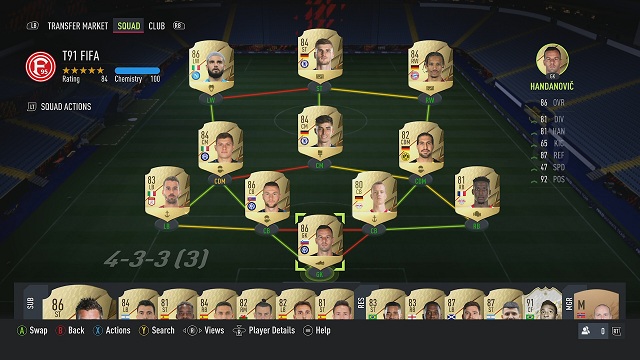 FIFA Ultimate Team as the main feature of FIFA Series is popular with players from all over the world. They are willing to collect best players to build their dream team in this game mode. Although the dream team is already built, you need also learn to try out more formations and tactics to win more matches in FIFA 22. There are some good formations for players to try when you are reading this article. You can get the player packs by
FUT 22 Coins
to open them for your desired players for FUT in FIFA 22.

Formation: 3-4-1-2
3-4-1-2 is not only an incredibly versatile formation, it also allows players to put a stop to opponents abusing overpowered finesse shots this year. If you have three strong centre backs, you're able to constantly use the R1/RB pressure to ensure players don't have time (or space) to crack off a long attempt on goal. Set the middle centre back to have 'Aggressive Interceptions' in Player Instructions, too, to aid in quick turnovers and counter attacks.
Going forward, you can use the wide players as either wing backs or out-and-out wingers, depending on your personnel and match situation. We recommend lowering depth oh-so-slightly to around the 30-40 range, however, while also applying the 'Stay Back While Attacking' instruction to the most defensively minded of your pair of central midfielders. That allows for a great deal of fluidity elsewhere in the attacking third, while being protected from any sudden changes in possession.
Formation: 4-4-2 Holding
While the 4-4-2 may be quite old-fashioned in the modern game, the 4-4-2 Holding formation is brilliantly balanced in FIFA 22 and gives you versatility in both defence and attack. While this is unquestionably a more conservative formation, with its second bank of four anchored by two CDMs, if you can use your wide midfielders to stretch the pitch it can be deadly offensively while still commanding more than enough defensive stability to avoid ceding easy opportunities to your opponent.
You're probably going to want to instruct your fullbacks to stay back, especially if you've got your wide midfielders pushing forward to complement your attack, but you should have more than enough defensive cover from your CDMs to break up any potential counter-attacks.
Formation: 4-1-2-1-2
This formation helps casual players play at a higher level. This 4-1-2-1-2 formation is narrow, which means that there are a lot of players in the middle of the pitch, making it very congested. This slows your opponent down, but it is also a formation that lets you attack quickly, helping you catch opposition teams on the counter.
Also in the 4-1-2-1-2 formation, the fullbacks push forward a lot. They provide your team with the width the formation lacks further up the pitch. They provide options in the final third to aid your attacks and make the opposing team's fullbacks drift wide to mark them. This leaves more space in the middle of the pitch for your forwards to create chances. These flying fullbacks also get back into their defensive shape very quickly, so the defence isn't often left short on numbers.
When you have known how to make the best formations for your team, you need to select the best players for the right position of the team. You can
Buy FIFA 22 Coins
to purchase suitable players from the player Auction, they will help you improve the ability of team on the court.