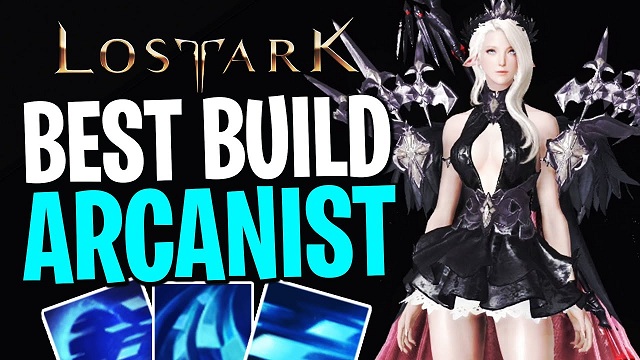 There are many different kinds of classes for players to choose in Lost Ark. While, some players really like the Mage Advanced Class, they want to build the best Lost Ark Arcanist. If you are interested in playing Arcanist in Lost Ark, you can read this article to learn from the guidance. Players can buy
Cheap Lost Ark Gold
to collect good materials for characters and craft useful potions for keeping healthy in battle.
What is Arcanist in Lost Ark?
Arcanists are one of the Advanced Classes that fall under the Mage Class. They wield Cards to deal explosive, magical damage. In terms of difficulty, Arcanists are quite tricky to pilot due to the randomness of the cards the player can draw, as well as figuring out the best combination of these cards. Compared to their other Mage Class counterparts such as the Sorceress and Bard, they move swiftly, allowing them to easily zip from one location to the next, helping them stay alive in combat.
How to Unlock Arcanist in Lost Ark
You can unlock this Lost Ark class once your Mage reaches level ten. However, you can't change your Advanced Class, so you need to level up a new character to test out this subclass. It's worth it though, as the Arcanist's unique powers make for interesting gameplay, from hurling her sharp-edged, Magick-infused cards at enemies, to activating randomised powers. While the following Lost Ark Arcanist builds are great for the powerful attacker, she doesn't have the best survivability, so use Engravings to improve your survivability where possible.
How to Build the Best Arcanist In Lost Ark
The Arcanist's skills are split into three categories; Normal, Stacking, and Ruin. Normal skills are used to deal damage and quickly build up the Arcanist's Specialty Meter. The other two types of skills, Stacking & Ruin, work together to build up impressive attacks. Successful attacks with Stacking skills will build up to 4 stacks on an enemy target. When a Ruin skill lands, it consumes stacks built up on the target to greater effect – creating opportunities to deal massive damage.
In PvP, you need to constantly swap between Specialty Cards (if you're unlucky) to gain buffs and consequently destroy other players. You'll also need to pay attention to your HP since you're not resilient compared to the other damage dealers. Some Hybrid Builds even mix 1 Level of both Empress' Grace and Order of the Emperor so that they get the bonuses of both Engravings. At Level 1, each respective Engraving yields massive benefits for the player.
In terms of skill rotation, it's best to start with Normal Skills to build up your Deck Meter. You can then switch to activating Stack Skills for Ruin Skills. The frequency of these Stack Abilities depends on your Class Engraving so if you've chosen Empress' Grace, then it's better to use all 3 Stack Skills but if you're more geared towards Order of the Emperor then triggering one of them should be enough before using Normal Skills again. And lastly, remember to activate Ruin Skills as a finisher.
Players need to level up the Arcanist's skills as soon as possible in order to improve attack towards enemies. And you can also
Buy Lost Ark Gold
to purchase good gear for them and pull through difficult dungeons in Lost Ark.