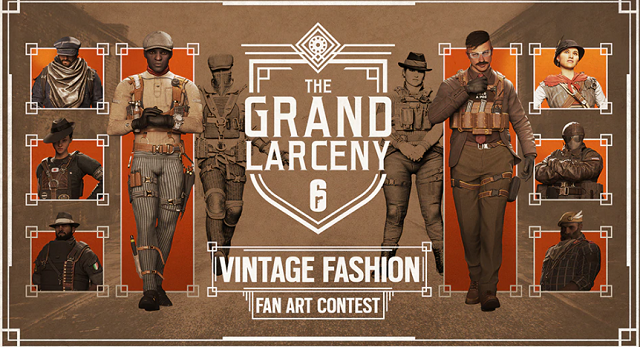 The special game mode "Grand Larceny event" of "Rainbow Six: Siege" is in full swing. At the same time, an official costume design competition is also held to let players' favorite agents make a facelift. The game website announced that the "Rainbow Six: Siege" retro fashion art competition has opened. Players can design and create retro clothing or accessories with vintage or historical inspiration for their favorite agents. Share with the official to have the opportunity to get "Fighting War" All reward content. It is only necessary that the entries are completely original and used to participate in this competition.
That's according to a post on the multiplayer game's site announcing the Rainbow Six Siege Vintage Fashion Art Contest. "Design and create a vintage or historical inspired fashion costume for your favourite operator," the post reads, "and share it with us using the hashtag #R6Vintage for a chance to win the complete Grand Larceny collection!"
To enter, you need to pick out your favourite of the best Rainbow Six Siege operators, then draw them sporting "your favourite vintage or historical fashion style", which includes clothing and/or accessories of your choice. You'll just need to make sure the entry is designed entirely by you, and specifically for the purposes of the competition.
CONTEST WINNERS:
As part of the competition, Ubisoft collects and processes your personal data to allow your participation in the competition and to share the content you have published. The processing of your personal data is necessary to perform the contract you have entered with Ubisoft by accepting the rules of the competition. Your personal data will be accessible by Ubisoft, its affiliates and sub-processors. The content you have published as part of the competition will remain publicly available until you choose to delete it. Ubisoft may transfer your personal data to non-European countries that ensure an adequate level of protection according to the EU Commission or within the framework of the standard data protection clauses adopted by the EU Commission here.
Ubisoft said that there will be ten winners in this competition and will examine three aspects of the entries, including: design and style level, creativity, and adherence to the spirit of competition and activities. The game lasts until May 12, players can go to the official website for details.