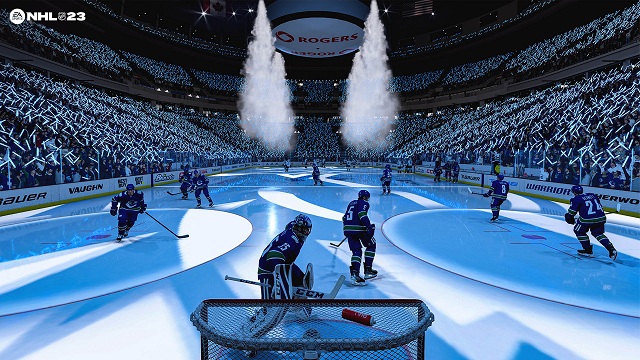 NHL 23 is really a good game for hockey fans who can experience the competitive matches against opponents. While, it is not easy for players to win matches against high level players. In order to beat more opponent teams and win the match, you had better learn some necessary tips that help you control your teams well on the court. We are going to list some useful tips in this article. Players can use
HUT 23 Coins
to level up your team equipment in order to enhance the overall rating of teammates in the team.
Essential Tips about How to Win Matches in Hockey Ultimate Team Mode
Find the right area to block goals on the court
There are many ways to attempt to block goals in NHL 23, but deciding what controls to use for each defending scenario can be very tricky. There are a few things to look out for when defending a shot that will help you make the right movements to block the puck.
First, you must know what areas of the goal you are leaving open during the shot. There are five holes in the Goalie's defense when in a ready position. When an opponent takes a shot, you must determine which holes to defend by moving either your entire body or your stick and glove.
Switch your teammates in time according to their state
It is perfectly normal for a player's teammates to get tired if they have been on the ice for a while. This is something that is to be expected in the game and can severely limit the gameplay if a player does not work around the exhaustion of their teammates.
If your teammates are tired, it will make them more susceptible to enemy attacks, and less likely to execute moves flawlessly. It will be best to switch them out, changing their lines to ensure that they are using teammates with their stamina at full.
Block the attacking route on the court
New Frostbite system has led to some big changes, namely the speed of the game and the physics engine. Space is much harder to come by than in past games, so it's important to watch the open players out on the ice and key in on tendencies. Does the opponent love to work the points, or what about the centerman in front? Look at which players are open, and which players the opposition loves to funnel the offense through. Then, adapt and cut those options off.
Choose the right team strategies
If you find yourself struggling in HUT, try changing your team strategies. Strategies affect your team's positioning throughout the three zones, plus breakout commands, and PP and PK setups.
Team strategies can be changed in the HUT Team section. Here, you can change how your team breakouts of the defensive zone, set Neutral Zone setups, as well as modify your Power Play and Penalty Kill setups.
These mentioned tips may help you find out the mistakes you made when you are playing matches in HUT 23. And you can correct them for lasting improvement if you keep these tips in your mind. In addition, it is useful to improve your teammates in time in the game, players can
Buy NHL 23 Coins
to select the suitable teammates and support the later competition in HUT 23.