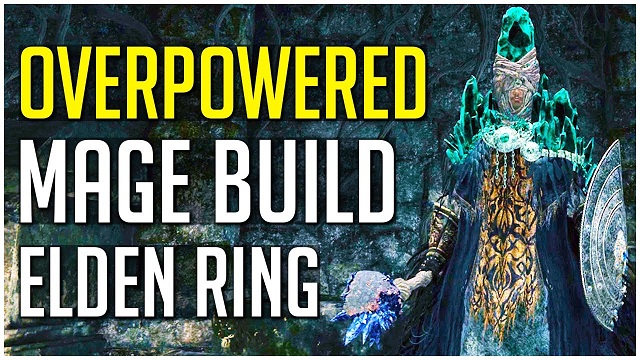 With the new update of Elden Ring, there are a lot of changes about weapons, armors and other items in the game. Players can build their desired characters according to the change of these items. Some players are willing to build the mage class. If you are also interested in the mage build in Elden Ring, you can read this article and know the guidance. Players can use
Cheap Elden Ring Runes
to get good items or gear for characters in order to enhance their abilities in the process of battles.
How to Build the Powerful Mage in Elden Ring
Sorcerers and Mages in Elden Ring need a couple of things to be fully functional. They require sufficient Intelligence, Arcane and Mind stats and access to powerful sorceries and staffs.
Gaining the aforementioned stats is a matter of leveling up but obtaining more powerful sorceries and staffs requires you to find sorcery teachers, scrolls and merchants.
Battle Mage Build in Elden Ring
With this Elden Ring battlemage build, we'll offer a heavy-Intelligence build that dual wields Lusat's Glintstone Staff with the incredible Wing of Astel sword to deal devastating amounts of damage at any range.
With this build, the Intelligence stat will be your main focus, but you'll need 10 points in Strength and 17 in Dexterity to wield the weapons mentioned above. After this, you can dump points into Intelligence and increase damage with both weapons.
Starting class: Astrologer
Required attributes: 10 Strength, 17 Dexterity, 52 Intelligence
Key attributes: Intelligence, Mind
Weapon: Wing of Astel, Lusat's Glintstone Staff
Best Armor for Battle Mage Build
For the Battle Mage build, you start with the Astrologer's armor, which is just relatively decent light gear to wear. It's excellent to increase your Vitality and Focus Resistance and provide you with Magical defense protection in the field.
We've chosen Raya Lucarian Sorcerer, Alberich's Set, and Snow Witch Set for the armor for the Pure Mage Build. Raya Lucarian Sorcerer is great for physical and adequate Magical defense. It's also lightweight and scales with Strength, making it a great choice if you have mobility concerns. Alberich's Set and Snow Witch Set are also excellent choices if you're looking for armor that compliments magic classes.
Best Talismans for Battle Mage Build
For Talismans, you want to boost your magic damage, and the best way to do this is with the Graven Mass Talisman, which increases all Sorcery damage by 8 percent. Combine this with the Magic Scorpion Charm for another 15 percent boost to all Magic damage, and you're good to go.
Your last two Talismans should be Radagon's Icon, which reduces the cast time of all spells, and Godfrey's Icon, which increases all your Charged attacks. The latter Talisman is purely to buff yourWing of Astel, as its Charged R2 benefits from this greatly.
How to Play the Battle Mage in Elden Ring
Battle mages are especially versatile when compared to many other builds. Each Elden Ring boss has its resistances and is known for being notoriously difficult. However, being a battle mage means attacking with both melee and magical attacks, and if the player keeps the strength in these two categories well-balanced, they can switch up their attack style as needed.
For example, going up against Rennala in the Raya Lucaria Academy as a full mage is incredibly difficult, as she is affected most by blood loss and not magic. A battle mage, however, can use their melee weapon instead of relying on the staff with more success.
Players who are willing to try the powerful mage build in Elden Ring can consider the following guidance. And if you are lack of enough runes for leveling up your characters, you can
Buy Elden Ring Runes
at RVGM.com in cheapest prices. Then you have access to build the powerful mage in the game.