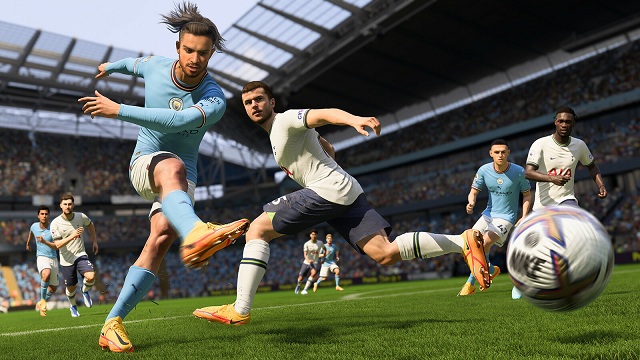 Most football fans are fond of playing online football games, especially FIFA 23. While there are many competitive opponents in the FIFA 23 Ultimate Team mode. It is not easy to win matches among these powerful enemies. If players want to win more matches in FIFA 23 Ultimate Team mode, you had better learn from some useful tips in advance. Players can read this article and learn some essential tips in FIFA 23 Ultimate Team. Players can use
FUT 23 Coins
to search good team players for your ultimate team in order to improve their capacities on the court.
How to Win More Matches in FIFA 23 Ultimate Team Mode
You should know the new chemistry system in FIFA 23
In FIFA 23, Ultimate Team chemistry is overhauled. Team 'chem' now totals 33 rather than 100, and while players still benefit from lining up with those from the same club, league, or country, they don't have to be next to one another. As ever, you can further improve their stats using FIFA 23 chemistry styles. Also retooled are Position Modifiers: rather than move a player up and down the pitch, you can now only switch them to a real-life alternate position.
You should make the suitable formation for your team
Having a good formation is the second most crucial element to winning more games in Ultimate Team. Throughout the year, the most effective formations will change, but players must follow suit to not be at a disadvantage. Early in FIFA 23, attacking is easier than defending, with most competitive players combating this by using teams with two defensive midfielders to provide that extra layer of protection.
The most popular formation so far is 5-3-2, with players stacking defenses and adding cover in the middle of the pitch. Understanding Chemistry and tactics in FIFA 23 can also help give players a slight advantage in matches.
You should know how to attack in the match
Attacking in FIFA 23 may feel different this is down to two major things: gameplay speed & left stick dribbling. Use of L1 / LB triggers and one-twos are the best way to create attacking chances when going forward. There are four new skill moves added into FIFA 23, which can be effective in the final third to help break down defences and provide yourself that extra space inside the box to pull the trigger, too. If you are struggling to get past a low defensive block, you do have the new power shot mechanic, to shoot from distance, too.
You should know how to cross on the court
Don't be afraid to switch the play and work the ball out wide. Crossing is pretty effective in FIFA 23, and something you'll want to take advantage of as opposed to just working the ball through the middle. If your formation allows it, make sure your wide players are getting into the box in crossing situations, so you have options at both the near post and far post to exploit.
We have listed several essential tips for players who want to win more matches in FIFA 23. You can try to experiment and master them as soon as possible through training or playing normal matches. These tips will help you a lot in the process of matches in FIFA 23 Ultimate Team Mode. On the other hand, players can
Buy FIFA 23 Coins
to level up your Ultimate Team mode quickly in order to keep pace with high level opponents in the matches.