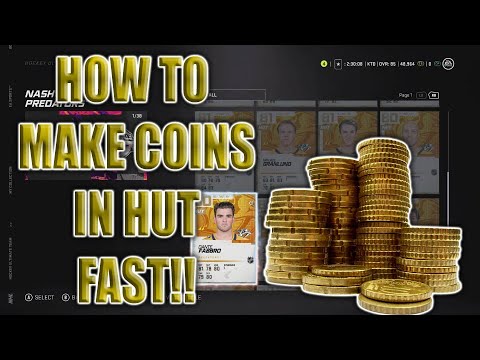 Coins is the most essential element in playing sports games, which will help you to build the Ultimate Team in NHL 22. So, players always try their best to find out the best and fastest way to earn HUT 22 Coins. Here are the effective ways for you!
Playing in Online action
Playing Online HUT games is one of the easier ways you can snare some Coins. Coins and other rewards (packs, cards, etc) can be earned after completing games HUT RUSH, HUT Rivals, and HUT Champions. Keep in mind though that the amount of Coins you earn after every game depends on how well you played. Win an online game and pot a couple of goals, and you should come away with a nice reward. If you lose, you will still earn Coins (should you complete the game), but the number won't be as high.
Work the Market
This is perhaps one of the best ways to build up your HUT coins. All you need to do is to buy low and sell high. Each NHL game is different when it comes to how expensive players are so what you first need to do is to get a feel for what players sell for what price. NHL 22 is no exception to this statement. Once you get a feel for the NHL 22 HUT marketplace then you can really put this plan into action.
Depending on the overall and caliber of a particular player, players can go from anywhere to a few thousand to a few hundred thousand. You can work the market basically at any level of HUT you are at. You can work the market early on with players who range from the low thousands or even players who are in the hundred thousand depending on the type of coin balance you have to work with.
Complete Challenges
Ultimate Team mode has Challenges, each with their own objectives. Complete them to earn Coins and make sure to achieve different Milestones. You can also buy Coins online or invest in several packs and then sell all the Cards you don't need. The latter is more expensive since you have to invest real money. We'd advice playing the market first, purchasing cards which might seem rare and selling them off to those who might be interested.
Log into Ultimate Team daily
There are more opportunities for you to play Hockey Ultimate Team (HUT) this year around with different battle modes and matches, we know, you don't have much time to encounter all the challenges, but don't forget to spend a few seconds every day to log into HUT for rewards, if so, you can get more than 1,000 HUT Coins each day for free.
Last but not at the least, if you are tired of getting method by playing the game, you can also choose to buy cheap
NHL 22 Coins
directly from the trustworthy store rvgm.com, cheap, safe, fast, 24/7!