NBA 2K22 best playmaking badges list: What are the best playmaking badges in 2K22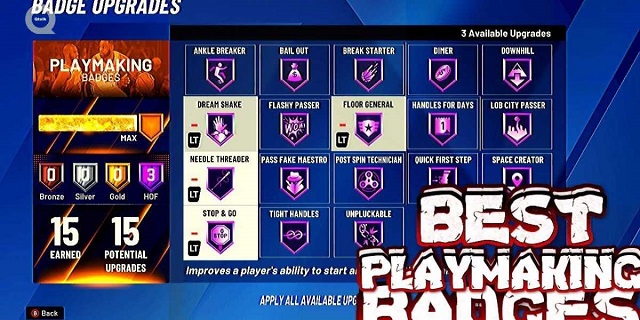 No matter you are doing dribbling or passing, playmaking badges are an important part of the ball handler's ability to effectively deliver assists or create his own shot. This article offers you the best badges to do all these things at a high level in the current and next generation.
What are the best playmaking badges in 2K22?
1. Floor General
The term "Floor General" has been used since the era in which Steve Nash and Jason Kidd were as good as passers as they were as scorers. Your team has a better chance of reading plays if you have this badge so you'll want to get this to at least a Gold level.
2. Dimer
One thing that NBA 2K has improved is the fact that hero ball no longer plays well with the game's meta. Play like Kobe Bryant and you'll be ice cold all night.
The good thing is that if you are on fire on offense, your teammates are going to be more open, and the Dimer badge will make sure these open teammates get good shots. It's good if you can get this badge up to Hall of Fame.
3. Bullet Passer
Lets you pass quicker. Bullet Passer is necessary to keep the opposition from stealing the ball in pass lanes and also to set your teammates up for open shots.
4. Bail Out
A badge you only need on Bronze to be effective, this badge allows you to pass out of questionable shots. Is necessary for the large majority of players, as you'll need it at some point for sure.
5. Quick Chain
Carrying the ball forward in the court is important while you're on the offensive side. The Quick Chain Badge makes it easier to perform back-to-back dribble moves.
Combining the Quick Chain Badge with others that provide stamina benefits often yields the best results since your player will need the extra juice.
6. Unpluckable
Losing the ball during a crucial moment can lead to letting your opponent score with close to no effort. Stealing was slightly buffed in NBA 2K22, and strips happen more often compared to NBA 2K21.
If you're looking to run an isolation strategy or anything similar, you'll want to use the Unpluckable Badge so you reduce the chance of defense players stripping the ball away from you.
Certain badges may seem like clear winners compared to other alternatives, but your play style will be the final decision point when it comes to choosing the best badge for your Playmaker. If you prefer dribbling to passing, your badge selection should be based on that as well. By the way, if you need to buy
NBA 2K22 MT
, we rvgm.com can also provide help for you!