NBA 2K22 Best Dribble Moves Current Gen & Next Gen: Best Dribble Style Introduction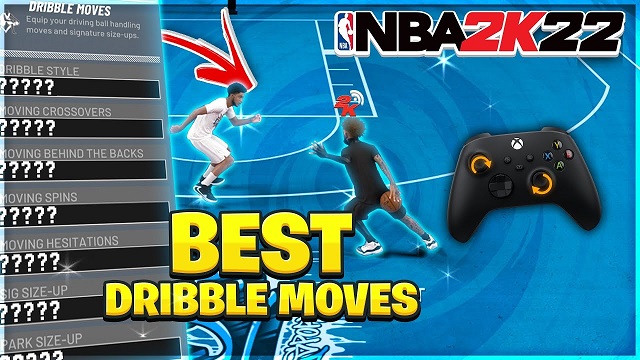 What is the best dribble moves in 2K22? What is the best dribble style in NBA 2k22? How do you dribble in NBA 2K22 Current and Next Gen? This article is going to talk about the topic concerning these three questions, if interested in, then just keep reading!
Best Dribble Moves in NBA 2K22
Getting open off the dribble is one of the most valuable skills in NBA 2K22. And while stick skills are still super important to master dribbling, having the right animations is the first thing you need to master.
In this post we break down the best dribble moves in NBA 2K22, with a main focus on primary ball handlers and a slight focus on players with lower ball handling:
Note: Different Dribble Moves are locked behind certain ball handle or speed with ball ratings in 2K22. We will list the required ratings for each dribble move we recommend.
NBA 2K17 Stepback
Let's say you are running to the left, you're going to hold the right trigger run to the left with your left stick and then while holding the right trigger, flick your right stick down. Running to the right, hold the right trigger and flick right slip back. running to the left same thing. Sometimes when flicking the right stick down, it'll give you the best NBA 2K22 dribble moves animations like a double crossover, you can either let that animation play out and get a little boost off of it. Or you can hold the left stick immediately, once he does the step back, move the left stick up immediately, and you can just go right out of the 2k17 step back instead of waiting for the two crossovers.
Moving Behind The Back
The point of going behind the back is to protect the ball, but almost all of these moves sacrifice speed to pull the move off. Thankfully, the K. Leonard move protects the ball while keeping the same speed while driving, making it the easy choice of the bunch. Kawhi Leonard is one of the best small forwards in the business, and his ability to shake a defender with this move translated nicely to the video game version of himself.
Moving Spins
Nikola Jokic — Ball Handle: 75
Kevin Durant — Ball Handle: 75
Joel Embiid — Ball Handle: 70
Jokic's spin move is very secure and is executed pretty quickly. Kevin Durant's spin move is a Season 2 release and covers a ton of ground. Embiid's dribble move is a great alternative due to it being very quick and hard to read.
Moving Hesitations
Luka Doncic — Ball Handle: 75
Larry Bird — Ball Handle: 70
Luka's hesitation dribbles are well-timed and explode out of the hesi. Larry Bird's is a good alternative because it covers a lot of ground and is very hard to steal, although fairly slow.
Moving hesitations can be a vital part of an offense. Once you hesitate while dribbling, you'll force the defender to make a decision and anticipate which direction you're going to take. While it can be seen as a 50 percent chance situation, you can fake out defenders consistently with the right moves.
L. Doncic has one of the better moving hesitation animations in the game, and the fact that he accelerates right after performing it makes it harder for defenders to catch him. K. Durant's moving hesitation can also be a close second, and whichever you like the best should be a decent fit for your setup.
Best moving crossover – S. Curry
Choosing a moving crossover will depend on what you'd like to do after you complete the move. If you're looking to make a jump shot after completing a crossover, then S. Curry will have the perfect set of moves for it.
Players who would like to drive toward the rim while crossing-over can check out G. Antetokounmpo or J. Tatum's movesets as well.
Want to find the best place to
buy NBA 2K22 MT
Coins? Then you are at the right place, rvgm.com is perfect web for you to purchase NBA 2K22 MT, VC, players and Accounts, cheap, safe, fast, 24/7!